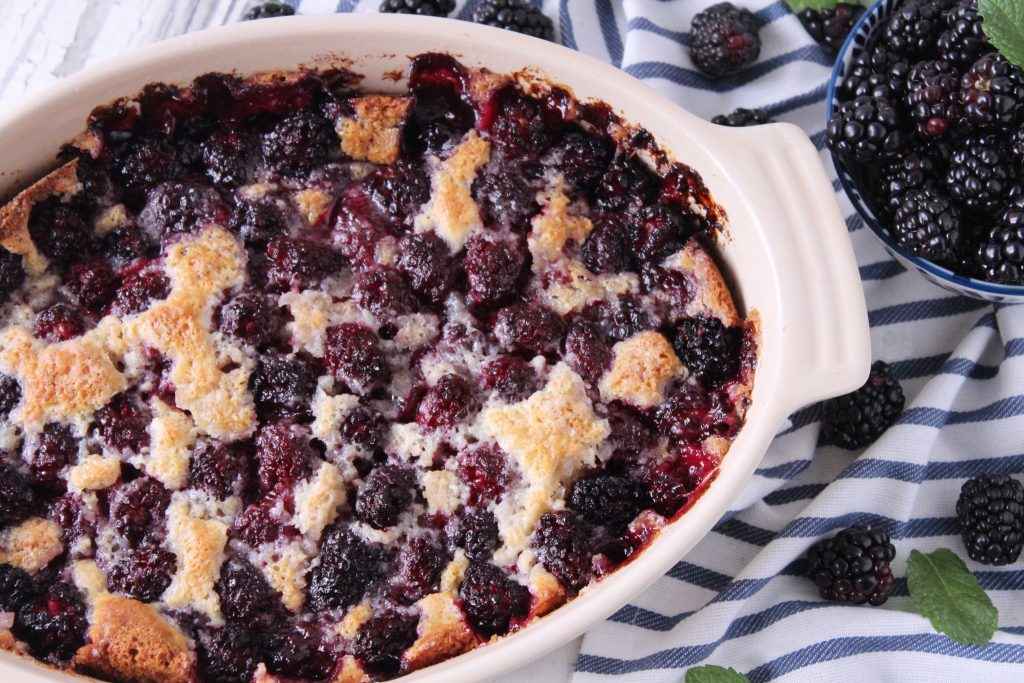 I was lucky enough to grow up in a time that we actually played outside in the summer . We went out early in the mornings on our bikes looking for adventures. Our subdivision wasn't completely developed in the 70's and there were patches of woods. In these woods we would build club houses and play for hours. The best part was the random blackberry patches in small clearings . With plastic cool whip containers in hand we would pick berries until our fingers were blue.  . Now, luckily these berries are easily accessible at local super markets and no foraging required . This Easy Blackberry Cobbler comes together quickly and you will never make it another way! The best thing is if blackberries are not available you can totally make this with frozen berries. If you love to cook with the fruits of summer check out this Fresh Peach Pie.
This is a super easy recipe and if you cook you will most likely have everything on hand to make this summer cobbler . If not a few of these things are easily bought at amazon or even your local Wal-Mart or Target.
** THIS POST CONTAINS AFFILIATE LINKS WHICH MEANS I MAY MAKE A SMALL PROFIT FROM PRODUCTS AT NO COST TO YOU . JUST TO NOTE I ONLY RECOMMEND PRODUCTS I USE AND LOVE  CLICK HERE FOR FULL DISCLAIMER
Things you will need to make this Easy Blackberry Cobbler :
Blackberries -of course lol
sugar
milk
Frequently asked Questions :
Do you have to use Bisquick? It does not have to be the brand but it has to be similar . A store brand baking mix will work.
Fresh or frozen berries can be used for this recipe I just recommend letting the berries mostly thaw before baking. 
All ovens are different . Check this after 50 minutes if the top is not golden brown or the center isn't firm let it bake longer . Check it after 5 minutes . Do not bake over 60 minutes
Let's make this yummy cobbler !
This Easy Blackberry Cobbler so simple to make ! Start by tossing blackberries with a 1/2 a cup of sugar and set aside.
In a separate bowl beat together 1 1/4 cup Bisquick, 1/4 cup sugar, and 3/4 cup milk.
Melt a stick of butter in a 2 quart baking dish.
Pour cobbler mix on top of the butter, Do Not mix.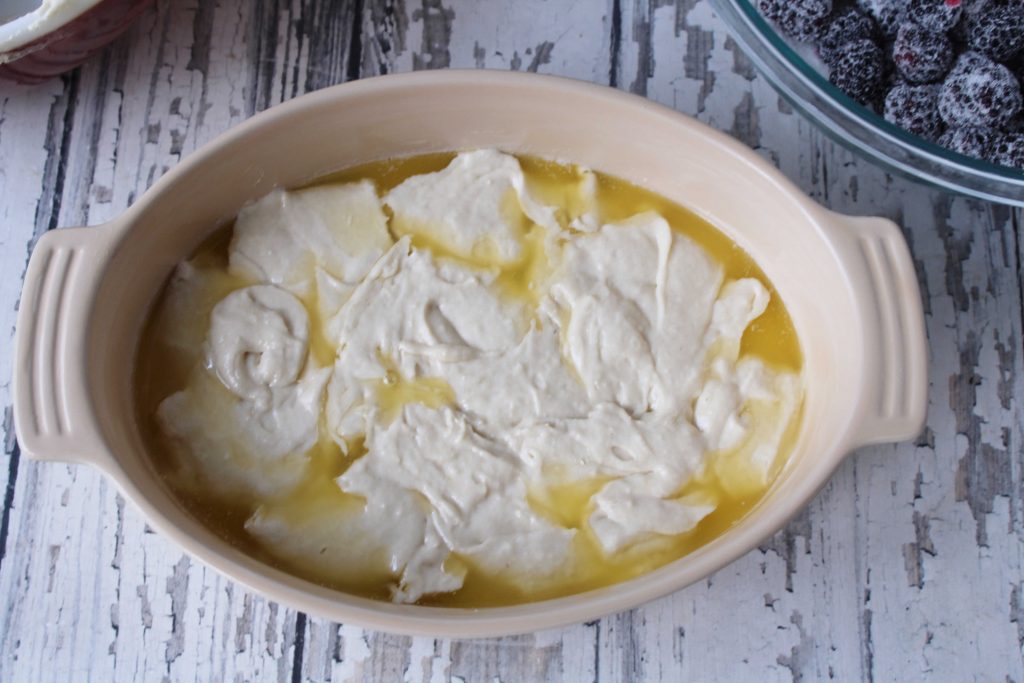 Top the mixture with the sugared blackberries.
Bake for 50-60 Minutes and magically the crust rises around the blackberries.
Serve warm with vanilla ice cream or whipped cream
Enjoy!
If you like this recipe you will love these:
Easy Blackberry Cobbler
This easy five ingredient easy blackberry cobbler is full of berries and sugary crust. It's the perfect summer treat served with ice cream.
Ingredients
3-4

cups

blackberries

3/4

cup

granulated sugar-divided

1

stick butter

1 1/4

bisquick

3/4

cup

milk
Instructions
Place blackberries in a bowl and toss them with a 1/2 cup of sugar , allow them to sit for 20-30 minutes

Preheat oven to 350 degrees

Melt 1 stick of butter in a 2 -3 quart baking dish

In a seperate bowl mix 1 1/4 cup of bisquick , 1/4 cup sugar and milk

Pour bisquick mixture over the butter , do not mix

Place the blackberries along with the sugar on top of this mixture

Bake in a preheated at 350 degrees oven for 50-60 minutes

Serve warm with a scoop of vanilla ice cream or whipped cream
Video
Notes
Frozen Blackberries can be used if they are not in season. I recommend letting them mostly thaw before baking .