Jump to recipe
This Pantry Chicken Spaghetti is a great meal to prepare for your family and all the ingredients can be kept in the pantry. It is creamy and full of flavor and your family will love it . This is a great quick dish if you are in a pinch or trying to clean out your pantry.  Necessity is the mother of invention and I have learned  to keep my pantry stocked and know how to use the goods when needed.  Living on the Gulf Coast my entire life and having survived a few natural disasters has taught me a lot.  I always keep a rotating stock of canned goods of all varieties . This Pantry Chicken Spaghetti is a great example but another is my basic Tuna Casserole .
What is great about making meals from your pantry is you can change things up a bit. This recipe calls for Rotel tomatoes but if you don't like the spice replace it with a can of diced tomatoes. Also the creamed soup combination can be changed up to what you have on hand.  Mushrooms are always optional , we all love them in my family and I always have them in my pantry.  This is also a great dish to make if you have leftover chicken that needs used.
As you can see these ingredients are all canned and everything  here I generally always have in my pantry. Other items I always have in my pantry are:
Canned meats like tuna and salmon
Peanut Butter or other nut butters
Canned vegetables and tomatoes
Boxed pasta dishes
crackers
variety of pastas
variety of soups
canned and dry beans
powdered and canned milk
Start by boiling your pasta according to the packages directions .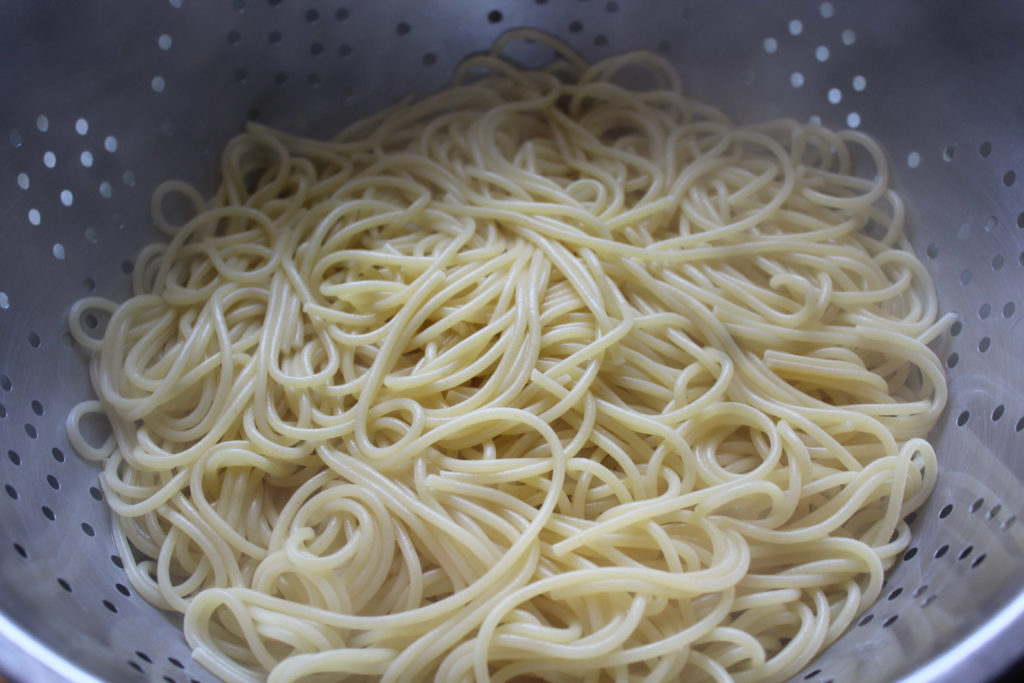 While the pasta is boiling in a medium pan on low heat combine the soups, rotel, chicken and mushrooms. Then stir in spices .
Continue to warm until the noodles are done.
Stir in hot pasta .
Serve with what you may have on hand. I made garlic toast from sandwich bread. Canned vegetables are another great option for serving.
This Pantry Chicken Spaghetti is a great family meal prepared with only pantry items. Perfect for anytime but also for emergency situations.
Ingredients
12.5 oz Canned Chicken -drained *see notes
10.5 oz Cheddar Cheese Soup
10.5 oz Cream of Mushroom Soup
10 oz Rotel Tomato-undrained
4 oz Canned Mushrooms(optional)
1 Teaspoons Italian Seasoning
1/2 Teaspoon Garlic Powder
1/2 Teaspoon Onion Powder
12 oz package Spaghetti
Instructions
Cook Spaghetti according to packages directions
While Pasta is cooking in a medium pot combine soups, Rotel tomatoes, mushrooms, chicken and seasoning over low heat until combined
Mix in hot drained pasta to the soup mixture
Notes
Serve with what you have on hand like a canned vegetable 
Garlic toast made with sandwich bread
I developed this recipe during a shut down and was trying to cook with items on hand. The canned chicken can be replaced with a couple cups of cooked and shredded chicken. 
© 2021 Copyright Baked Broiled and Basted