I had something totally different planned for dinner tonight but when I left work today it was cold and raining. You see, here in southern Louisiana the temperature gets beneath 50 degrees and we lose our minds . Temperatures in the lower 40's , windy and raining I needed this bowl of spicy yumminess in my life . This soup is something I have been making for years and It is my go to comfort food when it is cold.
I posted this Yummy Corn and  Shrimp Soup on Just a pinch back in 2010 and it caught the attention of the kitchen crew they awarded it a blue ribbon. This soup is a little on the spicy side but this can totally be adjusted by going easy on the cayenne pepper . Honestly if my nose isn't running the soup isn't spicy enough , lol. This is creamy and full of fresh vegetables and has so much flavor. Adding the shrimp at the very end keeps them nice and tender.
This soup isn't only super yummy it is easy. Simple ingredients and simple tools is the way I like things.
Start by cooking the onions, celery and garlic in 2 sticks of butter until they are nice and tender
Once the vegetables are nice and tender add the flour and let it get nice and bubbly
Add chicken broth and water making sure there are no lumps.
Add the seasoning ( omit cayenne if you want this milder) and bring the soup up to a nice slow boil stirring from the bottom with a spatula occasionally.
Add the rotel tomatoes and corn . Bring back up to a slow boil
Stir in shrimp and add a few dashes of Tabasco. Bring back up to a slow boil.
Once the shrimp are pink and curled add the half and half.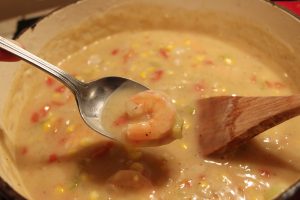 Bring the soup back up to a slow boil, turn the burner off , place the lid on the pot for at least 5-10 minutes.
ENJOY!!
Yummy Corn and Shrimp Soup
Ingredients
1 1/2-2

LBS

Shrimp peeled and deveined

2

sticks of butter

2

medium onions -diced

3

stalks of celery -diced

2

cloves

of garlic -minced

3/4

cup

all purpose flour

32

oz

carton chicken broth

2

cups

of water

10

oz

can mild rotel tomato

1

Tablespoon

salt

2

teaspoon

black pepper

1/4 to 1

teaspoon

cayenne pepper-optional if you don't like things too spicy

4-6

dashed Tabasco

2

cups

frozen corn

2

cups

half and half
Instructions
In a large soup pot melt both sticks of butter and cook the onions, celery and garlic until tender over medium heat

Once the vegetables are tender add the flour . Stir with a spatula until it is nice and bubbly

Add chicken broth and water, stir well and make sure there are no lumps

Add seasoning and tabasco , bring up to a slow boil

Add rotel tomato and frozen corn..bring back to a slow boil for about 5 minutes

Make sure to stir with a spatula from the bottom

Stir in shrimp

Once the shrimp are pink and curled add the half and half

Bring the soup up to a slow boil

Once the there is a slow boil turn off burner and place lid on the soup for at least 5 minutes