I love Tuna Casserole but my family doesn't have the same feelings about my ultimate comfort food. I am all about using what I have on hand so I was digging around in my pantry and came up with this simple Tuna Noodle for Two. This is the perfect serving for two people or one and save a serving for later. During this stay at home order I have had this for lunch a few times and it is so comforting . This is made mostly from pantry items and the box meal can be replaced with what is on hand.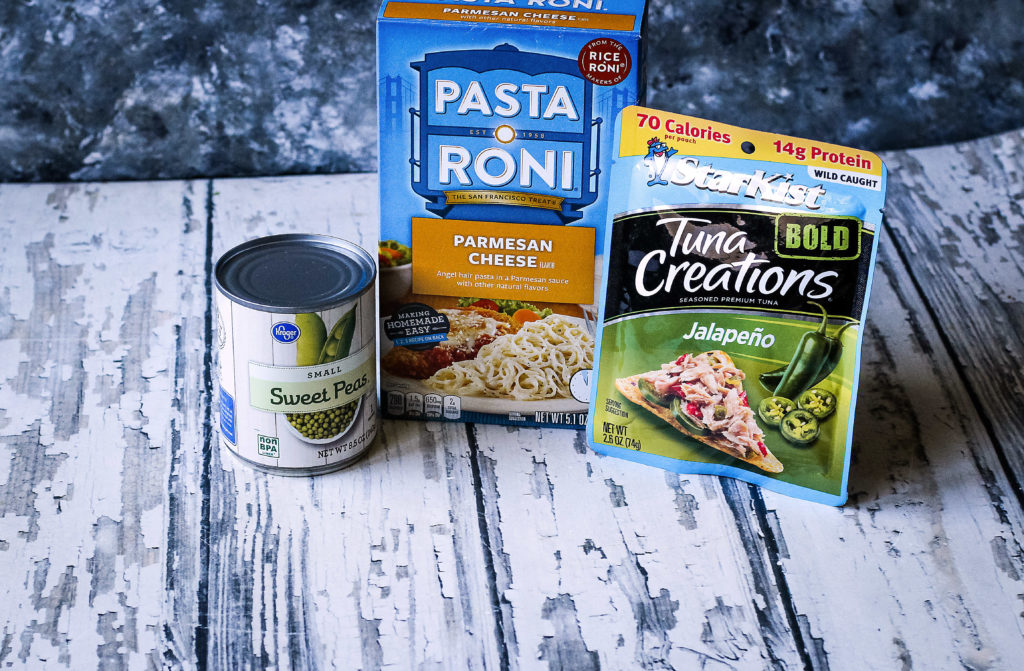 In this Tuna Noodle for two I used Pasta Roni but any similar box mix can be used. The pasta roni can be replaced with a knorr noodle pouch or even a craft macaroni and cheese. I love this particular pasta roni so I usually have it on hand. I recommend using something with a cheese flavor because it is so yummy . I found that the pouch of Tuna was a perfect fit and any flavor that you think would go with your pasta . The three I think would fit id plain, jalapeno or ranch.
In a sauce pan start by preparing your pasta according to the directions provided. As you can see you will need the ingredients listed on the package. I didn't list these because I wanted to give the option of using a different mix. Feel free to use what mix you like or have on hand.
Once pasta is cooked add the pouch of tuna and drained can of peas.
Gently stir and heat on low until the peas and tuna are warm. Be care not to break the peas.
I had Parmesan cheese and I topped it with a little but that is optional.
If you love this recipe you need to try my traditional Tuna Casserole.
Enjoy and stay safe everyone !
Tuna Noodle for Two
Ingredients
Pasta Roni -Parmesan Cheese or something similar

Ingredients on the box needed to prepare it

8.5

oz

can sweet peas

2.6

oz

Pouch of Tuna

Cheese to top it-optional
Instructions
Prepare the pasta according to package directions

Once the pasta is done turn it to low

Add Drained peas and Tuna pouch

Stir gently and allow the peas and tuna to heat, be careful not to break the peas

Top with cheese of choice, I used Parmesan but this is optional
Notes
Just about any type of cheese pasta will do..Pasta Roni, Knorr, or Craft are a few choices
Tuna pouch flavors that work would be plain, jalapeno, or ranch