Growing up in Southern Louisiana we kept our Christmas Tree up until New Years day. As soon as the tree came down a few days later on January 6 it was Twelfth Night and that marks the beginning  Mardi Gras season. That means King Cakes and this Boudin Stuffed King cake is a twist on a Mardi Gras classic treat.  Lake Charles holds a huge celebration where all the royalty from the previous year parade around in their majestic costumes and it is a festive evening.  After that night previous courts pass their royal duties over to the next royal court and the Mardi Gras Balls begin .I have been going to this celebration for as long as I can remember and what this meant to me as a wide eyed chubby girl was  KING CAKE SEASON. You see ,after twelfth night all the local super markets and bakeries have their delectable King Cakes ready to sell and this is another reason to adore Mardi Gras.
When I was young there was just the plain cinnamon king cake with the drizzled glaze or colored sugar, well things have changed . There are king cakes stuffed with simple fillings like cream cheese to complicated concoctions, but I have never met one I didn't like. A new trend the past few years is to combine savory and sweet . Here in southern Louisiana we all love boudin and tend to stuff it in all kinds of things like meatloafs, egg rolls, and kolaches . A boudin stuffed king cake was bound to eventually happen. This is my take on the new trend, I chose pepper jelly and bacon on top but I have seen steen syrup and cracklins also. This king cake is sweet , savory and has a little spice!!
This recipe is a little time consuming but  so worth it. The basic king cake dough is a simple semi sweet yeast dough . Start by scalding the milk, to do this bring the milk up to a boil and immediately remove it from the heat.
Add the sugar , salt , butter and allow everything to melt and dissolve and set aside.
Next in a large mixing bowl dissolve both packets of yeast in warm water. Not to warm, if you are not sure about the temp of your water use a kitchen thermometer .
Add the milk mixture to the yeast mixture and mix well
Add the beaten eggs to the mixture
Add the all purpose flour a little at a time . I prefer to do this by hand but you can use a mixer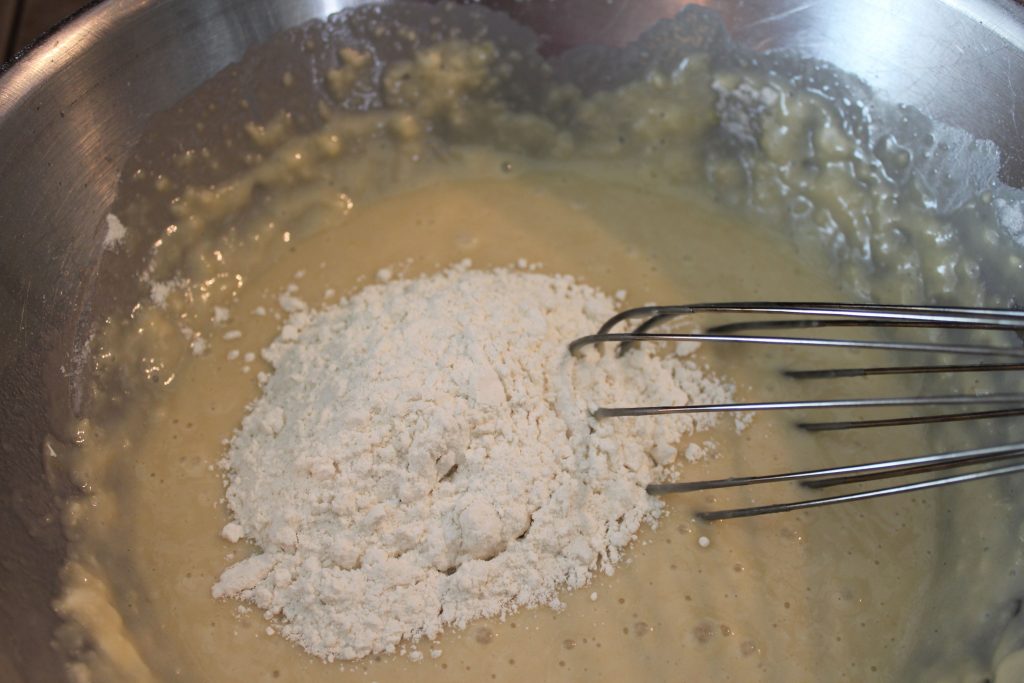 Add all the flour until it is combined
Turn onto a floured surface and knead 6-8 minutes until it is smooth and elastic like
Form into a ball
Place the ball into a greased bowl and cover with a towel and place in a warm place
While the dough is rising cook and crumble the bacon. Also remove the cold boudin from the casing and break it up
Once the dough is doubled in size punch it down
Turn onto a floured surface and roll into a large oblong shape. Fold in half and transfer onto a large baking sheet lined with parchment paper
Make a slit with a knife down the center and make the dough look like an oblong donut
Line the center of the dough with all of the boudin and start folding over the dough and pinching it to seal it
Tuck all the pinched edges on the bottom of the cake
Cover the cake with a towel and allow to rise for 30 minutes
Bake in a preheated for about 20 minutes or until golden brown
Brush with butter
Heat pepper jelly either on the stove top or microwave until it is smooth enough to drizzle
Drizzle the pepper jelly and top with bacon
ENJOY!
Boudin Stuffed King Cake
Ingredients
King Cake Dough
1/2

cup

Milk

1/2

cup

granulated sugar

1/2

teaspoon

salt

4

Tablespoons

Butter

1/2

cup

warm water

between 105-112 degrees

2

packages active dry yeast

2

large eggs beaten well

4

cups

all purpose flour -a little more for kneading

2

Pounds

of cold boudin removed from casing
Topping
2

Tablespoons

Room Temperature butter

Pepper Jelly of your Choice-I used a 10oz Jar

6

slices

of bacon cooked and crumbled
Instructions
Scald the milk by bringing it up to a boil and remove it from the heat

Add sugar , salt , butter and stir until everything is dissolved . Set aside

In a large bowl add the warm water and add the yeast packages . Allow the yeast to dissolve

Add the milk mixture to the yeast mixture

Add the beat eggs

Add the flour a little at a time mixing as you go( I do this by hand)

Once everything is mixed well , turn the dough out unto a floured surface

Knead around 6-8 minutes until the dough is smooth and elastic like

Form a ball and place in a oiled bowl

Cover the bowl with a towel and place in a warm place and let rise.

The dough needs to dough in size and usually takes around an hour depending on how warm it is

Remove the boudin from the casing and break it up in a bowl

Once the dough has doubled in size Punch it down and turn onto a floured surface

Roll out in a large oblong shape with the dough being about 1/4 of an inch

fold in half and transfer to a parchment lined baking sheet

With a knife make a slit in the center and make the dough look like a large oblong donut

In the center of the dough line it with all of the boudin, it will seem like alot but use it all

Fold the dough over the boudin , pinch and seal the dough , tuck it on the bottom

Cover with a towel and let rise in a warm place for about 30 minutes

At this time cook and crumble bacon and set aside

Bake in a Preheated 350 degrees oven for about 20 minutes or until golden brown.

When The cake comes out of the oven brush with room temperature butter

Heat pepper jelly up either on the stove top or microwave so it is easy to drizzle

Drizzle the whole cake with pepper jelly

Top with Bacon

Any left overs store in the Fridge and heat up in the microwave to serve