Growing up in  Louisiana we never had a sweet potato casserole during the holidays . We always had these Southern Candied Sweet Potatoes , I had never seen a sweet potato casserole until I was in my teens. Don't get me wrong , I love a good casserole with marshmallows melted on top . Seriously though, nothing beats a good old fashioned sticky candied sweet potato. If you have never had candied sweet potatoes , well you are missing one of life's little treasures.
This recipe for southern candied sweet potatoes was given to me by one of my Mother's best friends and it isn't one of those recipe you just throw together.  It has simple ingredients and it is cooked with lots of love, meaning it takes a little extra time . Don't be scared of all the steps because the end result is worth the work . This dish is perfect for Thanksgiving, but it's so good that it can be made for any meal . Another great recipe for Thanksgiving is Southern Smoky Green Beans.
Start off by boiling the sweet potatoes for about 20-25 minutes. They should only be partially done at this point.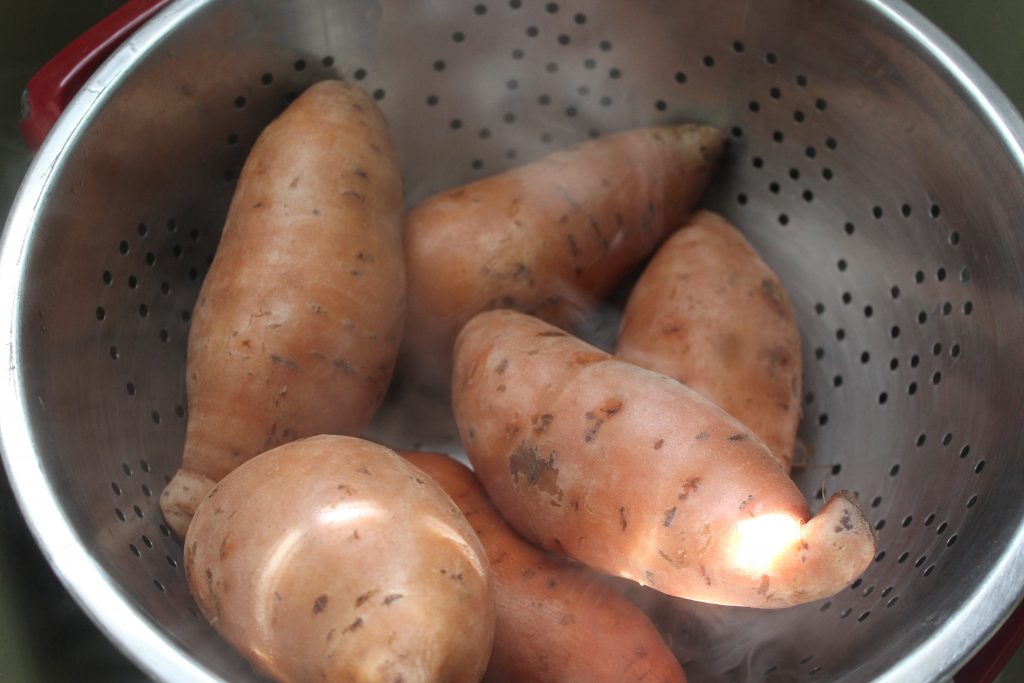 Drain the potatoes and allow them to cool.
While potatoes are cooling make the simple syrup . Combine the water and granulated sugar, bring up to a boil. Reduce the heat a little and let the mixture cook to a thickened syrup.
The mixture should be reduced by about half , this should take about 30 minutes. Turn off heat and stir in vanilla.
Peel the cooled sweet potatoes by hand. The skin should peel off easily.
Slice the sweet potatoes in long strips and place in a casserole dish.
Pour the simple syrup over the sweet potatoes .
Cut cold butter in small pieces and place it evenly over the sweet potatoes.
Mix together the cinnamon and sugar then sprinkle it over the sweet potatoes. Baked in a preheated 400 degree oven uncovered for 25 minutes. After 25 minutes turn the oven off, don't open the door. Allow the potatoes to sit in the oven for an hour, but if it's a little longer it's even better.
The end result is a gooey sticky candied sweet potato. Make sure when serving, spoon all that yummy syrup from the bottom on your potatoes. Trust me, if you show up with this dish at Thanksgiving you will be the things legends are made of. They will speak of your legendary sweet potatoes for years.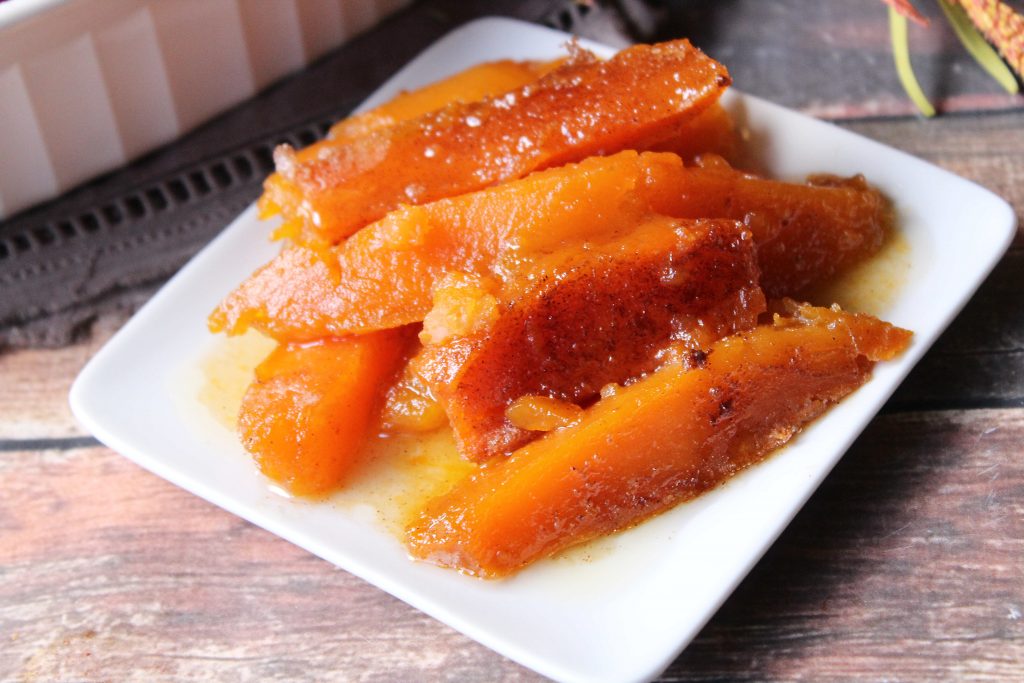 Enjoy!!
Southern Candied Sweet Potatoes
These Southern Candied Sweet Potatoes are an old fashioned recipe with simple ingredients. These sweet potatoes are a perfect addition to a holiday meal.
Ingredients
6

Medium Sweet Potatoes

1

stick butter
Simple Syrup
1 1/2

cup

granulated sugar

1

cup

water

1

tsp

vanilla
Cinnamon Sugar Topping
1/3

cup

granulated sugar

1

teaspoon

cinnamon
Instructions
Place the sweet potatoes in a large pot and cover the potatoes with water

Bring to a boil for about 20-25 minutes, you want the sweet potatoes to be partially cooked

Drain them from the water and allow them to cool

While the potatoes cool make your simple syrup

Combine the sugar and water ,bring up to a boil and then slightly reduce the heat

Stirring from time to time you want it to thicken and reduce , this will take 25-30 minutes

When the syrup is thickened turn off the heat and stir in the vanilla

Preheat oven to 400 degrees

Now by hand peel the skin off of the sweet potatoes

Slice the sweet potatoes in long strips by slicing them in half length wise and then slice those halves in strips

Place the strips in a casserole dish..I used a 4 quart dish but a 9x13 baking dish would work also

Pour the simple syrup over the sweet potatoes

Slice the cold butter into small squares and evenly place them over the sweet potatoes

Mix the sugar and cinnamon together

Poor the cinnamon and sugar mixture over the top of the sweet potatoes

Bake uncovered for 25 minutes

Turn off the oven and do not open the door

Allow the sweet potatoes to set in the oven for one hour, if they sit for a little longer it's okay . The longer they sit the better they get