This cinnamon apple crisp is full of warm juicy apples and topped with a buttery oat crunch.  This is the perfect dessert for any time of year for those apple lovers . I adore anything with baked apples , especially a good apple pie but they are so much work. Apple crisp are so easy anyone can make them plus there is no dough to mess with and most importantly you don't have to wait for it to cool. I have made MANY crisp in my kitchen and this method by far is my favorite. A warm apple crisp with a scoop of ice cream is just the perfect dessert for any occasion. The only thing that could make it better is possibly a little caramel ganache drizzled on top..super fancy !
I have made MANY , possibly over twenty crisp before I came up with exactly what I wanted. You see, I wanted the filling to be more like a pie filling and not dry. I have had some apple crisp that were good but just a little on the dry side. Also,  I love other seasonings like nutmeg and clove but I really wanted just Cinnamon . After many attempts I have finally came up with the perfect dessert just in time for apple season.
Let's make an Apple Cinnamon Crisp!
Gather Your Ingredients
Crisp Topping:
Flour
Old Fashioned Oats
Light Brown Sugar
Baking Powder
Cinnamon
Salt
Cold Butter
Apple Filling:
2 LBS of firm baking Apples of your choice-Granny Smith, Honey Crisp and Pink Lady are my favorites
Corn Startch
Apple Juice
Lemon Juice
Light Brown Sugar
Cinnamon
Salt
Cold Butter
Preheat oven to 350 degrees and spray or butter a 3 QT baking dish. In a medium bowl prepare the crisp topping by combining flour, oats , brown sugar, baking powder, cinnamon and salt.
Dice 5 tablespoons of cold butter and cut it into the dry mixture using a pastry cutter or 2 knives. Once the butter is cut into it well and the mixture resembles gravel place the bowl in the fridge until its time to use.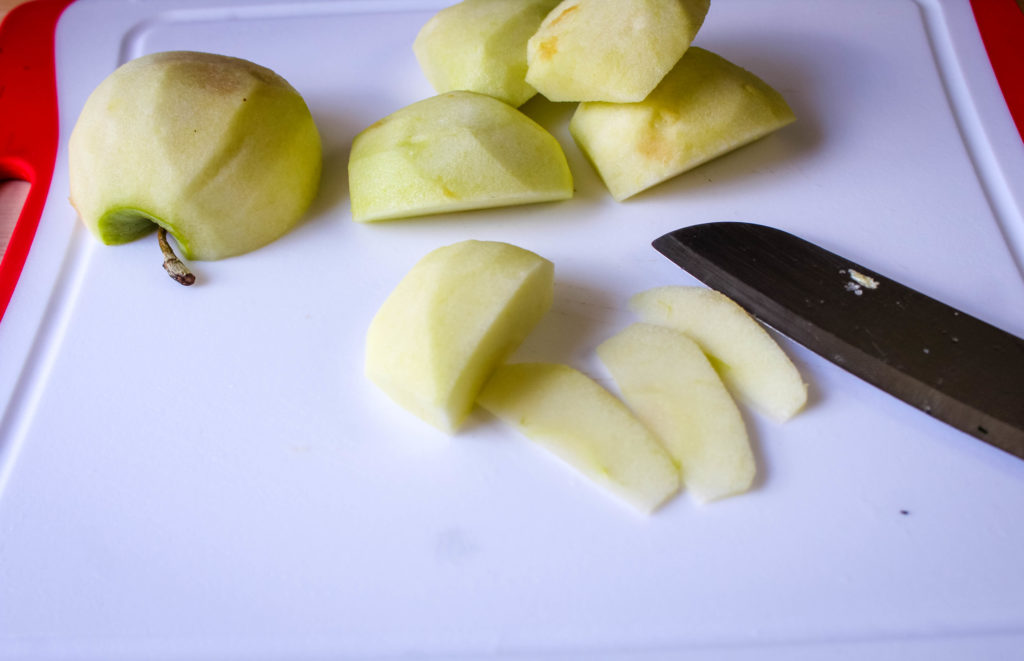 Peel , core and slice apples. Slice the apples pretty thin . If the apples are sliced to thick they won't be tender after the cooking process, nobody likes hard apples in a crisp.
Place the apples in a large mixing bowl and sprinkle them with Brown sugar, cinnamon, cornstarch and salt. Drizzle the apple juice and lemon juice over the apples and toss them until they are coated well.
Place the apples in a 3 quart baking dish( 8×8 brownie pan will work) and dot it with the 3 tablespoons of butter in tiny pieces. You want the spread the butter evenly , this helps with the juices in the filling.
Top the apples with the reserved topping mixture from the fridge.
Bake at 350 degrees for 35-40 minutes until golden brown.
This is the best Apple Crisp you will ever have! Top with Ice cream or whipped cream. If you want to get all fancy drizzle a little caramel ganache on there.
Debbie' s Recommended Tools for this recipe:
Cinnamon Apple Crisp
This cinnamon apple crisp is full of warm juicy apples and topped with a buttery oat crunch. Topped with ice cream , the perfect dessert.
Ingredients
Crisp Topping

1/2

cup

all purpose flour

1/2

cup

old fashioned oats

1/2

cup

brown sugar

1/4

Teaspoon

cinnamon

1/2

Teaspoon

Baking Powder

1/8

teaspoon

salt

5

Tablespoon

cold butter
Apple Filling
2

lbs

Firm Baking Apple like Granny Smith

1

Tablespoon

Corn starch

1/4

cup

apple juice

or water

1/4

cup

Brown Sugar

1

teaspoon

cinnamon

1/4

teaspoon

salt

3

Tablespoons

cold butter
Instructions
Preheat oven to 350 degrees and spray or butter a 3 QT baking dish

In a medium bowl prepare the crisp topping by combining flour, oats , brown sugar, baking powder, cinnamon and salt.

Dice 5 tablespoons of cold butter and cut it into the dry mixture using a pastry cutter or 2 knives.

Once the butter is cut into it well and the mixture resembles gravel place the bowl in the fridge until its time to use

Peel , core and slice apples. Slice the apples pretty thin .

Place the apples in a large mixing bowl and sprinkle them with Brown sugar, cinnamon, cornstarch and salt.

Drizzle the apple and lemon juice over the apples and toss them until they are coated well

Place the apples in a 3 quart baking dish( 8x8 brownie pan will work) and dot it with the 3 tablespoons of butter in tiny pieces

Top the apples with the reserved topping mixture from the fridge

Bake at 350 degrees for 35-40 minutes

Serve with Ice cream or Whipped cream
Notes
Slicing the apples thin and uniform will allow them the bake evenly and be soft, nobody like hard apples in a crisp
** This post does contain affiliate links