When the the weather starts getting cool and leaves begin to change it's time for all the yummy baked goods full of the fall spices. These autumn oatmeal cookies ooze everything about this time of year . They are buttery , chewy and full cinnamon, pecans and dried cranberries and are seriously so good. I added a little apple butter and this gave this cookie ever more of a fall feel. Give me a big cup of warm tea and one these cookies and I am in pure heaven. Another one of my fall favorites is Apple Bread with Cream cheese filling.
When I was young I was not a fan of oatmeal cookies. It was those dang raisins and always expectng them to be chocolate chips. As I got older and my taste changed I learned to like everything about oatmeal cookies. These cookies have so much flavor and texture. The cranberries are chewy , and a crunch from the pecans , the white chocolate chips are almost creamy and decadent.
These are just a basic easy cookie to make.Preheat oven to 350 degrees and line cookie sheets with parchment paper. Cream together the butter , both sugars, eggs and apple butter then Blend in the extracts.In a separate bowl mix together flour,salt, baking powder, baking soda, nutmeg and cinnamon. Add the flour mixture to the butter mixture and blend well. Add rolled oats and mix until incorporated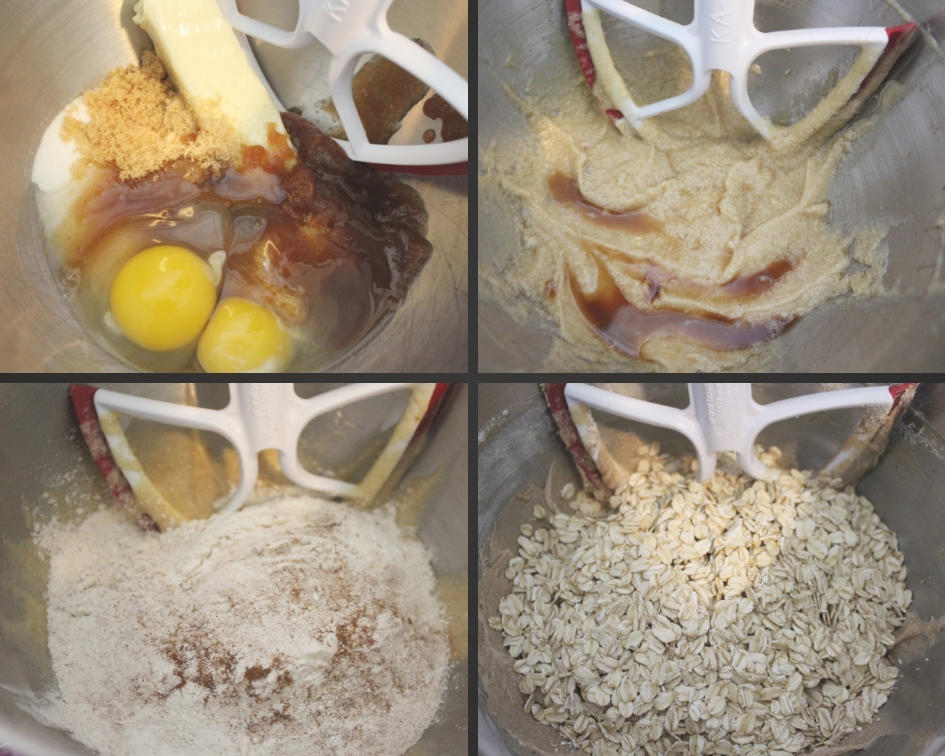 Stir in white chocolate chips, pecans and dried cranberries by hand. Using a 1 1/2 tablespoon cookie scoop drop dough on parchement paper about 2 inches apart .Bake 10-13 depending on your oven and well you like them baked. Cool on a cooling rack and Enjoy!
Autumn Oatmeal Cookies
Ingredients
1/2

cup

butter-room temperature

2

Heaping Tablespoons Apple Butter

1/2

cup

light brown sugar

1/2

cup

granulated sugar

2

Large Eggs

1

Teaspoon

vanilla extracts

1/2

Teaspoon

orange extracts

1 1/4

cup

flour

1

teaspoon

baking powder

1/2

teaspoon

baking soda

1/4

teaspoon

salt

1/2

teaspoon

nutmeg

2

teaspoon

cinnamon

2 1/2

cups

old fashioned oats

oatmeal

3/4

cup

white chocolate chips

3/4

cup

chopped pecans

3/4

cup

dried cranberries
Instructions
Preheat oven to 350 degrees and line cookie sheets with parchement paper

Cream together butter , both sugars, eggs and apple butter

Blend in the extracts

In a seperate bowl mix together flour,salt, baking powder, baking soda, nutmeg and cinnamon

Add the flour mixture to the butter mixture and blend well

Add rolled oats and mix until incorporated

Stir in white chocolate chips, pecans and dried cranberries

Using a 1 1/2 tablespoon cookie scoop drop dough on parchement paper about 2 inches apart

Bake 10-13 depending on your oven and well you like them baked