This Caramel Ganache is something I have been thinking about making for a long time but I was worried about it thickening up. Recently while doing some other work I discovered the beauty of ice water baths and ganaches. The light bulb went off and I knew what I would be working on. Just so happens I had my hands on a one pound tub of Chocoley Gourmet Caramel.  This was the perfect caramel to make this ganache.
This yumminess whips up creamy and smooth . This is a rich treat that can be drizzled on just about anything . I am going to be honest, it was fabulous just dipping apples in it. I could have ate the whole bowl with apples and justified it that I was eating healthy because of the apples, LOL.
8 oz of Chocoley Gourmet Caramel is basically half of a 1 pound container . Remove half and chop in small pieces and place in a medium mixing bowl
Bring the heavy whipping cream up to a boil and pour it over the caramel . Cover the bowl with a plate to trap the heat and let sit for 5 minutes
While the mixture is sitting prepare an ice water bath in a larger mixing bowl your other bowl will fit in
After 5 minutes start to stir the caramel into the cream. If it is too hard to incorporate you can pop it in the microwave for 30 seconds at a time . Careful though, you don't want to cook it , just melt them together.
Eventually get a wire whisk and whisk the mixture until it is smooth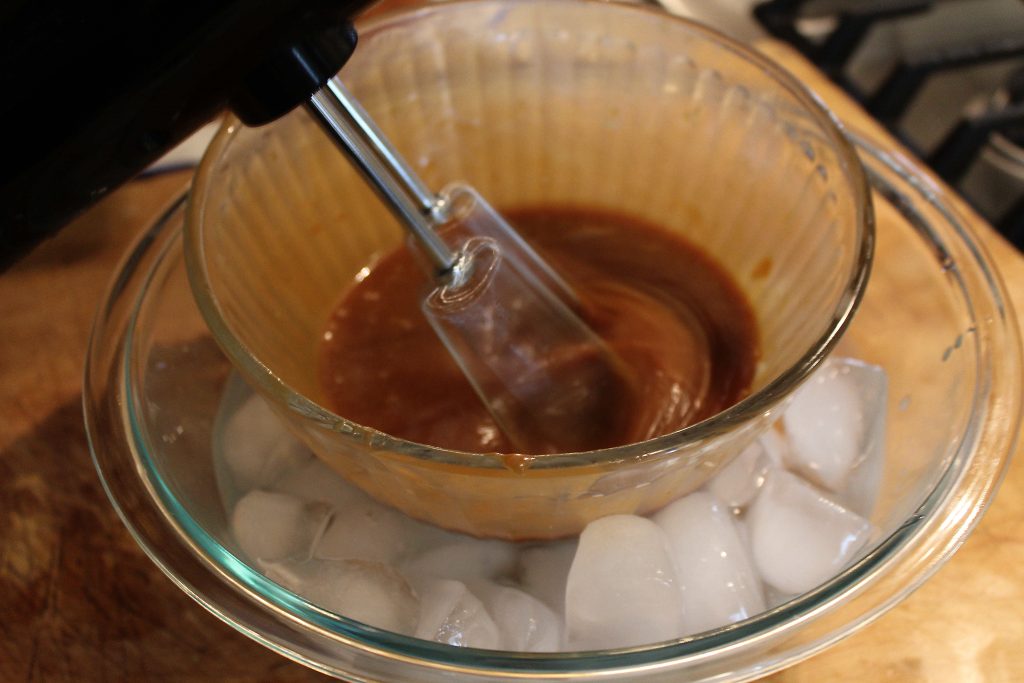 Now place the smaller bowl into a ice water bath and beat with an electric mixer, stopping to scrap down the sides.
Be patient ,this will take about 5 minutes but eventually the mixture will get creamy and thicken.
You want the ganache to drizzle off the spoon but thicker than melted caramel.
Now it's time to get creative and use it how you wish . It's great for just dipping apples !
You can drizzle this over cakes , cookies, scones or breads. Just about anything you would like caramel on. This is fantastic on My Caramel Apple Cake!
Enjoy!
Ingredients
8 oz Of Chocoley Gourmet Caramel
1/2 cup heavy whipping cream
Instructions
8 oz of Chocoley Gourmet Caramel is basically half of a 1 pound container . Remove half and chop in small pieces and place in a medium mixing bowl
Bring the heavy whipping cream up to a boil and pour it over the caramel . Cover the bowl with a plate to trap the heat and let sit for 5 minutes
While the mixture is sitting prepare an ice water bath in a larger mixing bowl your other bowl will fit in
After 5 minutes start to stir the caramel into the cream. If it is too hard to incorporate you can pop it in the microwave for 30 seconds at a time . Careful though, you don't want to cook it , just melt them together
Eventually get a wire whisk and whisk the mixture until it is smooth
Now place the smaller bowl into a ice water bath and beat with an electric mixer, stopping to scrap down the sides
This will take about 5 minutes but eventually the mixture will get creamy and thicken, you want the consistency to be able to drizzle off a spoon but thicker than melted caramel
https://bakedbroiledandbasted.com/caramel-ganache/