This Strawberry Mousse Pie is the perfect cool and creamy no bake pie for the warmer months. This pie has a whipped strawberry mousse with strawberries mixed in makes it the perfect pie . Spring has sprung in southern Louisiana!! The azalea bushes have flowers on them and there is a thick coat of pollen on everything in sight. When the weather begins warming up I am ready for fruit and no bake desserts. My favorite is strawberry anything, I love some strawberries. I came up with this Strawberry Mousse Pie last year for our Easter gathering at work by using items I had on hand. It was a huge hit and now it's one of my favorite pies. Believe me, bring this pie to any gathering and it will be gone in no time.
Let me start off by saying this is my personal opinion and I am not being paid to say any of this . I love the Jell-O Simply Good  product line! This recipe calls for the strawberry and it really packs a punch of flavor and makes this mousse so yummy. I have tried several of their flavors and everything I have tried is fabulous. They make a chocolate caramel pudding that I make a pie with also that is fabulous!
This is a simple no bake dessert and only requires a few ingredients
Start by adding the jello packet to a small bowl and pour the boiling water over it. Stir until dissolved and set aside.
In a medium mixing bowl add the heavy whipping cream for the pie filling to a bowl and beat until it firms up and has stiff peaks.
Pour dissolved Jello into the whipped cream
Continue to beat the filling until it is firm and has stiff peaks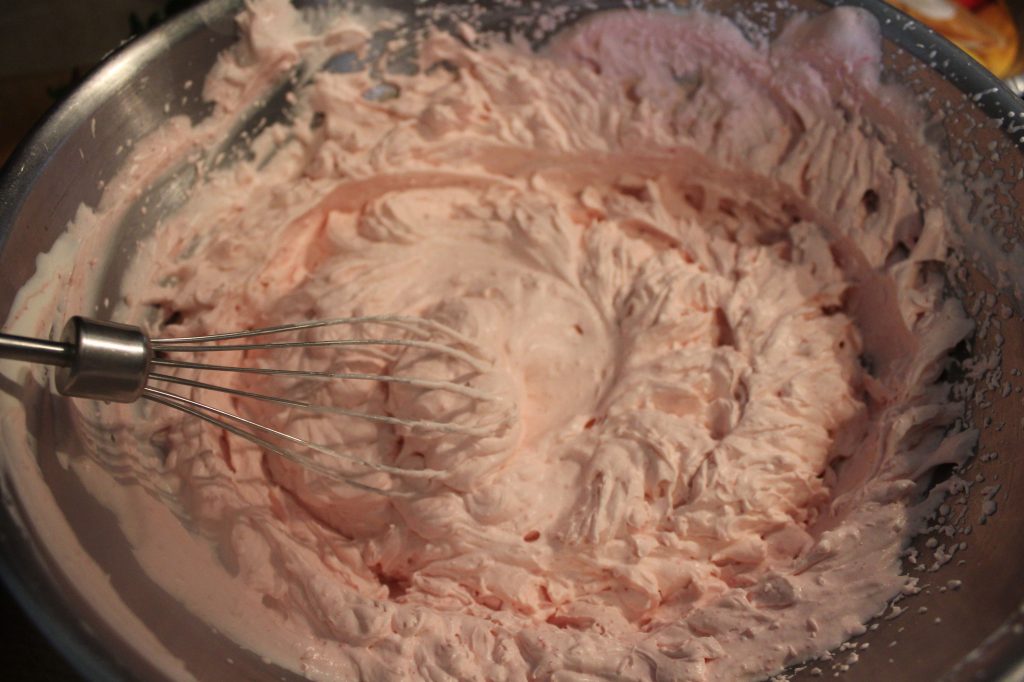 Spread the strawberry glaze into the bottom of the graham cracker crust and cover that with sliced strawberries
Spread the whipped strawberry mousse over the strawberries and glaze , then smooth it out
Cover and chill for at least 4 hours , I usually chill over night.
Once pie is chilled prepare whipped topping . Place all of the ingredients in a medium sized mixing bowl
Beat until stiff peaks form
Either spread the whipping cream on top or pipe it on they way you want
Garnish with strawberries
ENJOY!
Strawberry Mousse Pie
Ingredients
Pie
9

oz

premade graham cracker crust

larger crust

1/4

cup

hot water

6

oz

Strawberry Jell-O

1 1/2

cup

heavy whipping cream

1/2

cup

of Premade Strawberry Glaze

4-6

Sliced strawberries
Whipped topping
1

cup

Heavy Whipping Cream

2

Tablespoons

powdered sugar

1

teaspoon

vanilla extract

More strawberries for the top is optional
Instructions
Bring water up to a boil in the microwave

Pour hot water over Jell-O and stir until dissolved and set aside

In a Large mixing bowl beat heavy cream until it is almost firm

Pour slightly cooled Jell-O mix into the cream

Beat the cream and Jell-o Mix is completely incorporated and set aside

Spread the premade glaze on the bottom of the graham cracker crust

Cover the glaze with sliced Strawberries

Top the strawberries and glaze with the whipped cream mixture

Cover the pie and refrigerate for several hours or overnight

Right before serving make the Whipped topping place placing all the ingredients in a large bowl and beat until form

Spread or pipe the whipped topping on and garnish with fresh strawberries if desired