I came up with these Fiesta Ranch Chicken and Bacon Quesadillas one afternoon for lunch when I had 3 hungry teenage boys whining  they were starving and there was "nothing" to eat in the house.  As a parent how many times do you hear "There is nothing to eat " ?? Yeah, I hear it all the time.  My autistic son is funny about leftovers, he will eat them reinvented but he can't eat the same thing twice in one week. So, to keep things all good in his world and not wasting food I have to get creative . In this case I had 2 rather large left over chicken breast but any cut of poultry will do . You can even buy a rotisserie from the supermarket and use it . Also, this would be great way to use leftover turkey after Thanksgiving .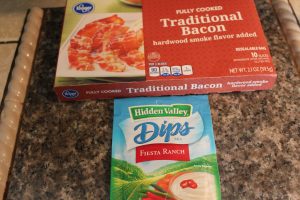 After digging around I saw I had the beginnings of something really yummy. This was all stuff I had on hand but even if I didn't it is simple ingredients and would be easy to recreate. I had some precooked bacon and that addition made my boys super happy and it was easy.  Sprinkling bacon and cheese on anything is like sprinkling it with love.
To get started put 2 cups of chopped leftover chicken in a large skillet with a 1/2 a cup of water under a medium to high heat
Pour the the Fiesta Ranch Packet Over the chicken and stir well
Place the lid on the skillet and allow the chicken to heat up. While the chicken is heating this is a good time to crisp up the bacon and then break it up in pieces.
In a different skillet on medium to high heat place a pat of butter and allow it to melt
Once the butter is melted place a tortilla in the skillet allowing the butter to coat the outside of the tortilla. On half of the tortilla layer cheese, bacon , chicken and more cheese.
Fold half of the tortilla over
Flip over .. You want the cheese melted and both sides nice and brown.
Cut in half
Serve with Ranch dressing
ENJOY!!
Fiesta Ranch Chicken and Bacon Quesadillas
Ingredients
2

Cups

cooked chicken-leftover chicken is fine

1/2

Cup

water

1

Packet Fiesta Ranch

6-7

Strips of bacon cooked and crumbled

Tortillas-Soft taco size

Mexican Blended Cheese

Butter for Cooking

Ranch for dipping
Instructions
Cook and crumble bacon-I used precooked and crisped it up in the microwave

Add 2 cups of cooked chicken and 1/2 cup of water to a large skillet on medium to high heat

Add the packet of Fiesta Ranch to the chicken and stir making sure all the chicken is coated well

Place the lid on the skillet and allow the meat to heat up

In a separate skillet on medium heat melt a pat of butter

Place a tortilla on top of the butter

On one half of the tortilla sprinkle a little cheese, bacon, chicken and a little more cheese

Fold the empty half of the tortilla over and grill each side until the cheese is melted

Cut in half and serve with ranch dressing