I live in a house full of sports obsessed boys and it is football season. Between my boys we are at the jr high and high school football fields three times a week.  That isn't nearly enough football though ! On saturday and sundays our living room TV stays on what I call random football.  While they favor SEC football on saturdays they watch any games if their favorite team isn't playing. Watching football really makes you hungry apparently because I am always cooking and making lots of snacks.
I usually make this cheese ball my husband loves but since he is doing the low carb thing I had to adjust the ingredients a bit.  He loves the flavor of ranch and I usually dump a packet of that seasoning in some cream cheese and BAM I'm a rockstar . Well ,looking at the nutrition info on the back of the packet I was conflicted and not really sure if I should use it.  After a little research I decided to make my own seasoning mix and the results were pretty tasty. This cheese ball is full of so much flavor you never miss eating this with crackers. I served it with cucumber cut in chips and celery ..It was PERFECT!!
This is a cinch to throw together and it can be done the night before you want it or just a few hours ahead . Start with room temperature cream cheese.
Mix together the seasoning mixture
Add the seasoning mixture to the cream cheese
Blend well
Add the cheddar cheese, parmesan cheese, 3-4 green onions and 6 slices of crumbled bacon and blend well
So now it is time to form the ball. After many years of making cheese balls I have this the easiest way of doing this. All you need is a bowl large enough to fit the entire mixture into and wax paper. Sarun wrap can be used instead of wax paper, I just like wax paper
Cut a piece of wax paper big enough to fill the bowl and also cover the top
Place the mixture in the and flatten the top
Fold the edges up and cover the top and place in the fridge for a few hours
Once the mixture is chilled invert onto a plate and peel away the wax paper
Crisp up the bacon in the microwave and crumble it and dice up the green onions for garnishing
Press the bacon into the ball and garnish with the green onions
Serve with fresh veggies or if you aren't doing low carb a cracker of your choice
ENJOY!!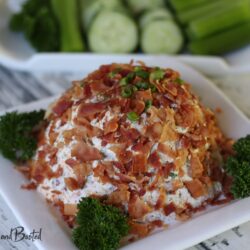 Auto Draft
Ingredients
8

oz

Cream Cheese-Room Temp

7.5

Spicy Jalapeno Cream Cheese-Room Temp

1 1/2

Cups

Sharp Cheddar Cheese

1/4

Freshly Grated Parmesan Cheese

12

slices

of precooked bacon divided

4-5

green onions divided

Celery and Cucumber slices for serving
Seasoning Mix
2

Tablespoons

dried parsley

3/4

Teaspoon

Dill Weed

1

Teaspoon

garlic powder

1 1/2

Teaspoon

onion powder

1/2

Teaspoon

dried minced onions

1/2

Teaspoon

salt
Instructions
Combine Both Cream Cheeses in a bowl

Combine the seasoning and stir it into the cream cheese

Add 6 slices of chopped bacon and 3 -4 sliced green onions

Then add the cheddar and parmesan cheeses

Place cream cheese mixture into a wax paper lined bowl and chill 2-3 hours

After it is chilled invert onto a plate

Crisp 6 slices of bacon in the microwave and sliced a green onion

Coat the outside of the ball with bacon and garnish with green onions

Serve with Celery and Cucmbers