.
These Lemon Cream Cheese Crescents are a lemon lovers dream ! I could not stop eating these..really I couldn't . These buttery flaky crescents just melt in you mouth.  The filling is full of lemon flavor but slightly sweet. I originally made these for a weekend brunch but it turned into a snack and even a dessert . Really this little crescents are very versatile an super easy to make.
Growing up I remember falling in love with a simple lemon ice box pie my mother would make. You know the easy one made with sweetened condensed milk and in a pre-made graham cracker crust. My mom wasn't much of a pie maker so this was the extent of her pie making skills .  Every since then I have been bonkers over anything lemon. These Lemon Cream Cheese Crescents are so good you will find excuses to make them . They are really better slightly warm , so once they are room temp just pop them in the microwave a few minutes.
Making these little jewels are a cinch and kind of fun. Even if you are not a pro at rolling them they come out just fine.  Start off by lining a large baking sheet with parchment paper and preheating the oven to 350 degrees. If you haven't noticed I am a huge fan of parchment paper, everything bakes better on it.  Next In a mixing bowl combine cream cheese, lemon curd, lemon zest , lemon juice and 3 tablespoons of powdered sugar. Beat with a wire whisk until smooth. Unroll crescent rolls and separate all 16 crescent triangles.  Place 1 tablespoon of the cream cheese mixture on the widest part of the triangle . Then roll the crescents up beginning with the widest end and end with the narrow end underneath. Roll all 16 crescents and place them on lined baking sheet.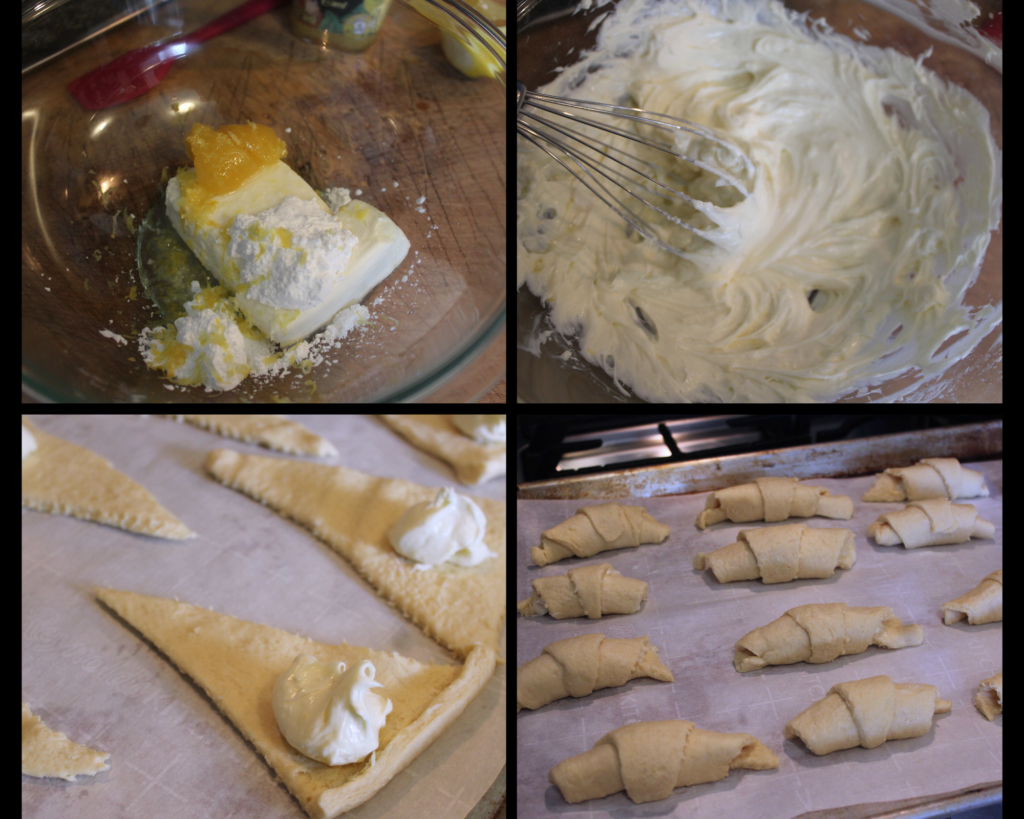 Bake in preheated oven for 12-15 minutes or until golden brown. Allow crescents to cool for a few minutes and use a spatula and move them to a wire cooling rack. Sift powdered sugar lightly and serve.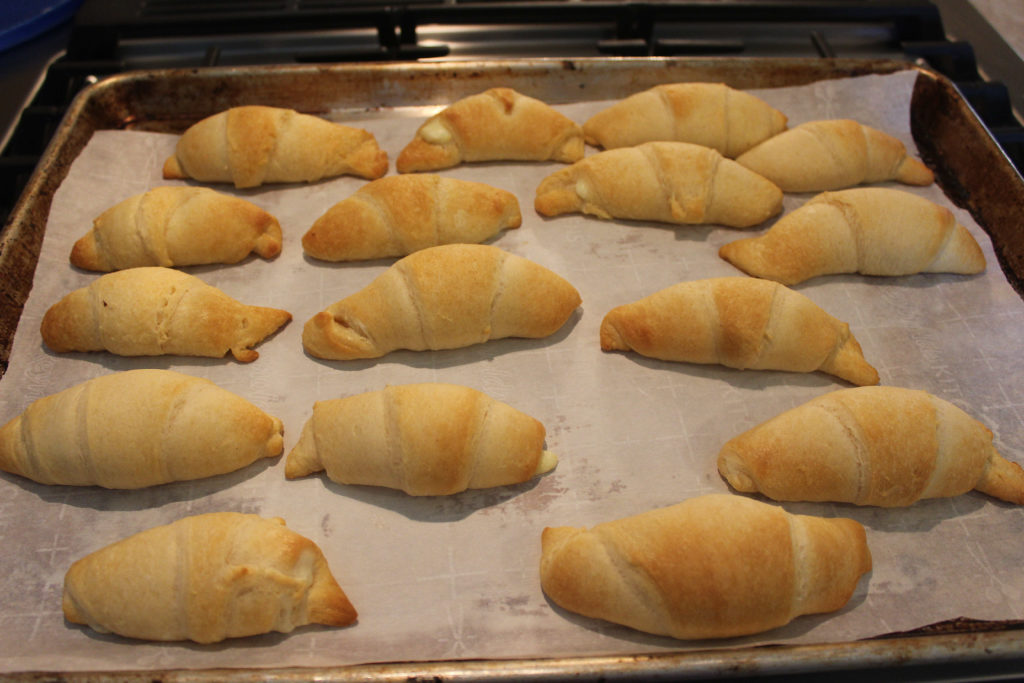 Best served warm..Enjoy!
If you love this recipe check out these as well:
Blueberry Biscuits with Lemon Glaze
Lemon Cream Cheese Crescents
These delicious Lemon Cream Cheese Crescents are a great treat for any occasions . They have a lemon creamy center and is baked in a warm flaky crescent.
Ingredients
2

packages Original Crescent Rolls

6

oz

Cream Cheese -Room Temp

2

Tablespoons

Lemon Curd

1

Teaspoon

Lemon Zest

1

Tablespoons

of fresh Lemon Juice

3

Tablespoons

Powdered Sugar

Extra Powdered sugar to sprinkle
Instructions
Preheat oven to 350 degrees and line a large baking sheet with parchment paper

In a mixing bowl combine cream cheese, lemon curd, lemon zest , lemon juice and 3 tablespoons of powdered sugar. Beat with a wire whisk until smooth.

Unroll crescent rolls and separate all 16 crescent triangles.

Place 1 tablespoon of the cream cheese mixture on the widest part of the triangle

Roll crescent up beginning with the widest end and end with the narrow end underneath

Fill and roll all 16 crescents and place on lined baking sheet

Bake in preheated oven for 12-15 minutes or until golden brown.

Allow crescents to cool for a few minutes and use a spatula and move them to a wire cooling rack

Sift powdered sugar and lightly

Best served warm
Nutrition