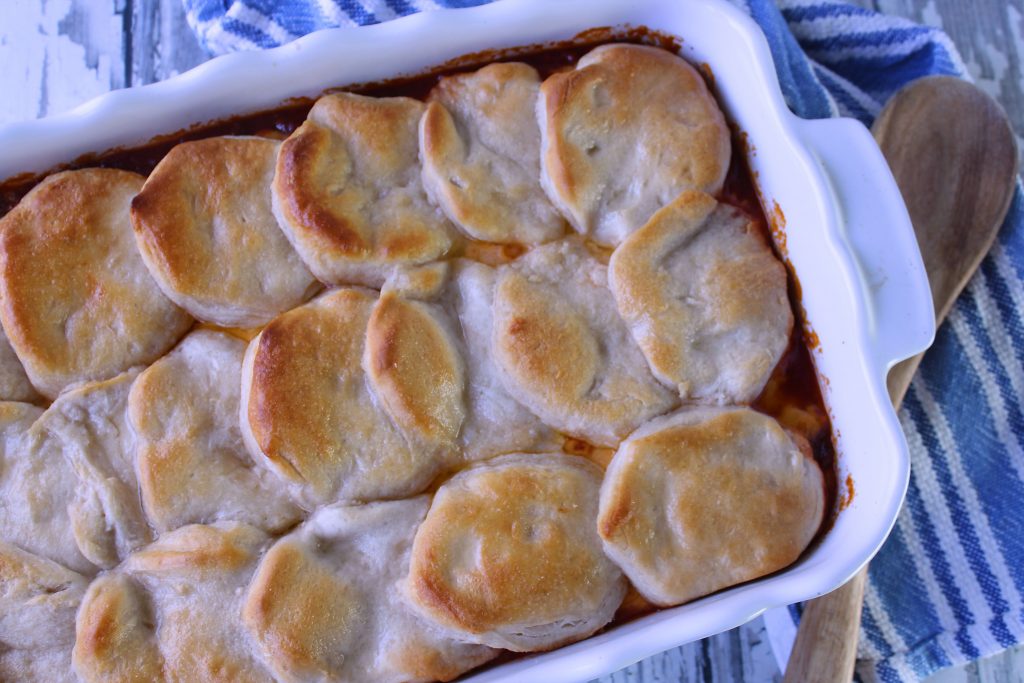 This Sloppy Joe Casserole is a super easy dish to throw together on a busy night. It has the classic bold flavor of a sloppy joe but all in one pan. Feeding a family of five I am sucker for easy hearty casseroles and this is an oldie but goody . This is one of those recipes all busy moms should have on their go to recipe list, trust me it will be a family favorite. It has the yummy comforting flavors of a Sloppy Joe but all in one dish. I have been cooking a version of this for years but it is forever changing and this is what it has morphed into today.
I used to make this with cornbread on top but fluffy warm biscuits work best in my opinion. It is almost like an upside down open face sloppy joe  with ooey cheese stuck in middle. I think when I first started making this I only used one pound of meat with one can of sloppy joe mix and made it in a small brownie pan. Times have changed and now I have three teenage boys that are bottomless pits so the recipe has grown along with my family.
Let's Make Sloppy Joe Casserole !
To get started preheat your even to 350 degrees and get a large skillet out and start cooking the onions, bell pepper and minced garlic.
Once the vegetables are cooked a bit and the onions are slightly translucent add the 2 pounds of ground meat.
Once the meat is cooked drain all the excess oil
Add 2 cans of your favorite sloppy joe mix
Add red pepper flakes and let simmer for a few minutes
Pour the meat mixture into a sprayed 9×13 dish
Cover the meat mixture with the sliced cheddar cheese
Split the biscuits in half until you have 16 biscuits
Cover the entire top of the cheese with the split biscuits
Bake in a preheated oven for 20 minutes or until golden brown
Melt 2 tablespoons of butter and 1/4 teaspoon of garlic powder together
Brush the top of the hot biscuits with garlic butter
ENJOY!!
Sloppy Joe Casserole
Ingredients
1

Tablespoon

Olive Oil

1/2

cup

diced onions

1/4

cup

diced bell pepper

1

Tablespoon

minced garlic

2

pounds

ground beef

2

cans

15.5 of your favorite sloppy joe mix

1

teaspoon

red pepper flakes

8

slices

Cheddar Cheese

6oz

1

can of grands flaky biscuits
Garlic Butter
2

tablespoons

butter

1/4

teaspoon

garlic powder
Instructions
Preheat oven to 350 degrees

In a large Skillet heat olive oil and add onions, bell pepper, and garlic.

Once the onions are slightly translucent add the ground meat and break it up real well while cooking

Once the meat is cooked drain excess oil

Add both cans of sloppy joe mix

Add the red pepper flakes and bring to a simmer

Pour meat mixture into a 9x13 baking dish spray with cooking spray

cover the top of the meat mixture completely with the sliced cheese

Take the 8 biscuits and them in half using the flaky layers so you will have 16 thinner biscuits now

Cover the top of the cheese the 16 biscuits

Bake in preheated oven for 20 minutes or until the biscuits are golden brown

Melted the butter and garlic powder together and brush the mixture on top of the biscuits