This past weekend my husband and I had an adult get away to the hill country in Texas and San Antonio. The hill country we need another few days there in the future just to hit all the wineries in Fredericksburg. It was just a neat little community that I will return to soon. We were wanting a weekend of more than just shopping and wine tasting so the majority of our time was spent in San Antonio. While in San Antonio we stayed at The Menger Hotel which is like staying in a museum. This hotel is grand and rich in history, and it has a pretty cool bar,lol. The bar is where Teddy Roosevelt was said to have summoned and recruited The Rough Riders. They are very proud of their history and show it off in displays that I just find fascinating.
Before leaving town I usually take care of any food items that might spoil while we are gone. I forgot about the the bananas in the fruit bowl on the counter. We came home to a VERY ripe bunch of bananas and couldn't let those go to waste. Wanting something a little different I dug around and saw a half a jar of apple butter and a light bulb went off.   Adding apple butter to basic banana bread couldn't be a bad thing along with fall spices. This bread turned out like a banana bread with a fall flair and is simply delicious . The pecan streusel on top makes a nice sugary crust and is a nice touch . If this sounds good check out another one of my favorite fall breads –Apple Bread with Cream Cheese Filling.
To make this Apple Butter Banana Bread preheat your oven to 350 degrees and spray an 8X5 loaf pan. In a medium bowl mix the dry ingredients and set aside. Mash very ride bananas in a large bowl and then blend the sugar with it.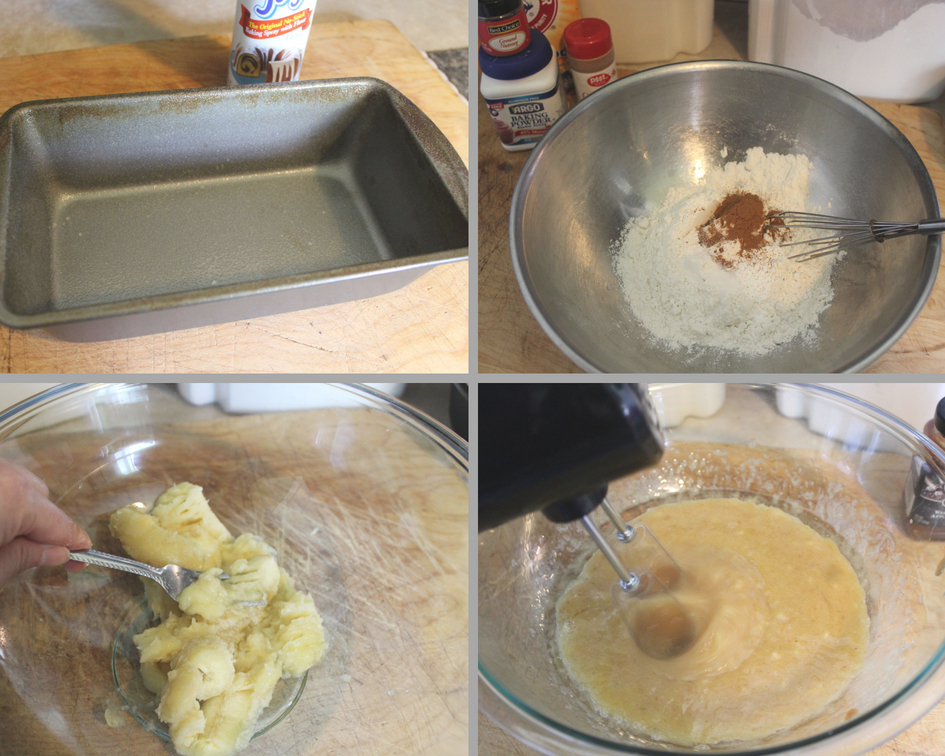 Add the eggs, oil , apple butter and blend well. Add the entire bowl of the flour mixture to the banana mixture and blend well. Add the mixture to the prepared loaf pan and set aside.
Add all of ingredients to the pecan streusel to a small bowl. Using a fork or pastry cutter cut the butter into the mixture until crumbly. Evenly pour the streusel over the bread and bake in preheated oven for 35-40 minutes. Cool the bread for 10 minutes and remove from the pan and cool on a rack.
Slice when completly cool
Apple Butter Banana Bread
Ingredients
Pecan Streusel Topping

1/4 Cup dark brown sugar
1/4 cup diced pecans
2 Tablespoons all purpose flour
1/2 teaspoon cinnamon
2 Tablespoons Cold Butter-diced
Apple Butter Banana Bread

1 1/2 cups all purpose flour
1 teaspoon baking powder
1/2 teaspoon baking soda
1/4 teaspoon salt
3/4 teaspoon cinnamon
1/4 teaspoon nutmeg
2 over ripe bananas -mashed well
3/4 cup granulated sugar
2 eggs
1/4 cup vegetable oil
1/2 Apple Butter
Instructions
Preheat oven to 350 degrees and spray an 8x5 loaf pan
In a medium mixing bowl sift together the flour, baking powder, baking soda, salt , cinnamon, and nutmeg
In a large bowl mash your very ripe bananas
Add sugar to the bananas and beat until smooth
Add the eggs, oil , and apple butter to the banana mixture and blend well
Add the flour mixture to the banana mixture and blend well and pour into prepared pan
Make pecan streusel adding all of the ingredients to a small bowl and work the into the other ingredients until the mixture is crumbly
Pour the streusel evenly over the bread mixture
Bake in a preheated oven for 35-40 minutes , a tester should come out clean
https://bakedbroiledandbasted.com/apple-butter-banana-bread/