These Cake Mix Cinnamon Rolls come from my collection of "furlough rolls". My husband is a federal employee and he was furloughed during the fall of 2014. To help make ends meet during that time I made and sold cinnamon rolls when I got off work. I came up with several variations of cinnamon rolls in that time and I dubbed them all furlough rolls. When that time passed and my husband was no longer furloughed I swore I would never knead dough again. Once the blisters healed from closing hundreds of pans and the freezer no longer was stocked with pans of rolls that didn't sell I missed them. These are seriously worth kneading dough again. Back in 2014 I adjusted this recipe many times and could make these without even thinking but not today. I actually had to pull out my handwritten notes.
This recipe makes a lot of cinnamon rolls, so if you aren't cooking for a small army these are great to par-bake and save for later. Today I baked and half and put the rest in the freezer for later( check out How to Par-Bake Cinnamon Rolls). While we are talking about baking lets talk about cinnamon. Back when I was making these I discovered siagon cinnamon and boy it really makes a difference. I am telling you one taste of this cinnamon in these rolls you will never want anything else again.  The smell alone brought my teenage boys out of their summer hibernation and off the PS4 /Fortnite to come investigate what I was baking.
I know there are so many methods of making cinnamon rolls but I do it the old fashioned way. This all seems like a lot but seriously it's not that hard. First start by proofing your yeast. Do that by placing two packets of yeast in a bowl and pour warm water over it. The temperature of the water needs to be at least 95 degrees but no hotter than 110 degrees, use a kitchen thermometer . While the yeast is proofing mix the cake mix, sugar , and flour in a bowl. Make a well in the center, when the yeast is done proofing pour the yeast mixture in the center. Mix the dough with a wooden spoon , adding more flour if needed . Turn the dough out onto a floured surface and knead until it is smooth and elastic like. Add more flour if the dough is too sticky.
Once the dough is smooth and elastic like form into a ball and place in a well oiled bowl. Cover with a towel place in a warm non drafty area. The dough should rise and double in size , it usually takes about an hour. While the dough is rising mix the cinnamon sugar filling and set aside.
Once the dough has doubled in size punch down then turn onto a floured surface. Cut the dough in half and set one half aside. Roll the half of the dough in a rectangle shape and spread 4 tablespoons of room temperature butter on it. Don't spread the butter all the way to the edges, leave about a 1/2 inch on the way around. Sprinkle 3/4 cup of the cinnamon sugar mixture on top of the butter. Start rolling the dough like a jelly Roll starting with the long end. Slice the rolls with a sharp flour coated knife and place the rolls in an a pan sprayed with cooking spray.
Cover the pan with a towel and allow the rolls to double in size . This usually takes about 30 minutes. Preheat the oven while the rolls are rising. Repeat the process  with the other dough. Once dough is done bake in a preheated oven for 20-25 minutes or until slightly browned. While the rolls are baking mix all the ingredients for the Cream Cheese Frosting for cinnamon rolls. Let rolls cool for about 10 mins  then spread the frosting.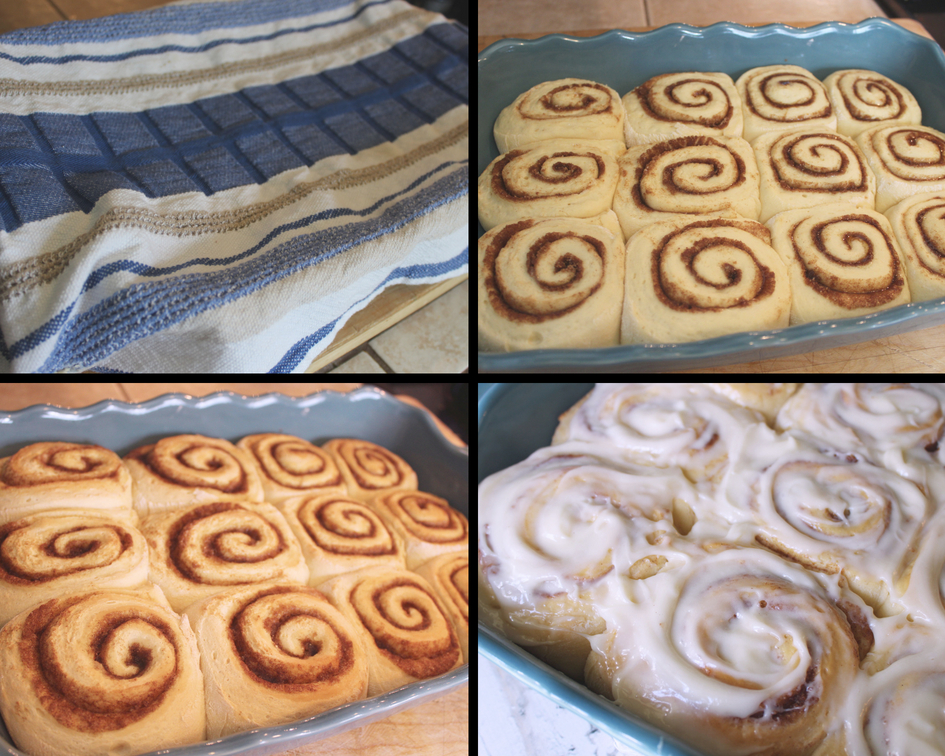 ENJOY!!
Ingredients
Dough

1 box yellow cake mix
4 cups all purpose flour
1/4 cup sugar
2 cups warm water (no warmer than 110 degrees)
2 packets of yeast
extra flour for kneading
8 Tablespoons room temperature butter -divided
cooking spray
Cinnamon Sugar Filling Mixture

3/4 cup granulated sugar
3/4 cup brown sugar
2 heaping tablespoons of Siagon Cinnamon
Cream Cheese Cinnamon Roll Frosting

4oz Room Temperature Cream Cheese
4 Tablespoons Butter
1 teaspoon vanilla
1 Tablespoon milk
3 1/2-4 cups Powdered Sugar
Instructions
Dough

Start by proofing the yeast by adding warm water and the 2 packets of yeast to a small bowl. The water needs to be at least 95 degrees but no hotter than 110 degrees. It takes about 5 minutes to proof.
While the yeast is proofing Mix together 3 1/2 cups of flour , cake mix, and sugar in a large bowl. Make a well in the center to pour the liquid.
Once the yeast is completely dissolved give it a little stir and pour into the well of the dry ingredients.
I do this the old fashioned way and use a wooden spoon . Slowly stir until all of the ingredients are incorporated. At this point you can add remaining flour until the dough isn't too sticky to knead
Turn the dough out onto a floured surface and knead and add flour as needed if the dough gets too sticky
After about 5 minutes of kneading the dough should smooth and elastic like
Form the dough into a ball and Place in an oiled bowl, cover with a towel.
Place in a warm, non drafty area to allow to rise. The dough should double in size after about an hour
Mix the ingredients to the cinnamon sugar filling and set aside
Punch dough down and turn out onto a floured surface.
Cut dough in half , set one half aside and keep one on the floured surface
Roll the dough evenly to rectangle , it should be about 14x10
Spread 4 tablespoons of room temperature butter out on to the dough, leaving about a 1/2 inch all the way around free of butter
Sprinkle 3/4 cup of the cinnamon sugar mixture onto the butter
Start rolling the dough up like a jelly roll starting with the long side.
Now to cut the rolls. Using a very sharp knife coated with flour cut off the ends and discard.
Carefully cut rolls 1/2-3/4 inch wide and place them in an oiled pan. Depending on how you cut them you should get 30-35 rolls. Just make sure you leave enough room for them the rise.
Cover and let rise again , they should double in size . It should take about 30 minutes and preheat oven to 350 degrees
Repeat this process with the other dough or get them ready to parpaking and freezing
Place rolls in a preheated oven and bake for 20-25 minutes, or until slightly golden brown
While rolls are baking mix all the ingredients for frosting
Let the rolls cool for about 10 minutes and spread frosting on top of rolls
https://bakedbroiledandbasted.com/cake-mix-cinnamon-rolls/