Eggnog French Toast is a holiday twist on a plain breakfast. Eggnog truly is the taste of Christmas and making french toast with it is not only delicious but easy. When serving a crowd this is an easy recipe to whip up that will impress your family and friends. Serve this drizzled with Buttermilk Bourbon Syrup and a Peppermint Mocha you will be at rock star status and nobody had to get up at 5 am to cook breakfast. That's what I'm talking about since I am not a morning person and I do NOTHING before a cup of coffee touches my soul.
Honestly , eggnog comes out before Thanksgiving so this can be enjoyed as soon as you see it hit the shelves. This was actually our Breakfast on Thanksgiving morning. Since my oven was being taken up with a Turkey and dressing , this was the perfect breakfast .
Whisk together your favorite eggnog and eggs .
Whisk in the vanilla , rum extracts, cinnamon and nutmeg. Mix well until everything is incorporated .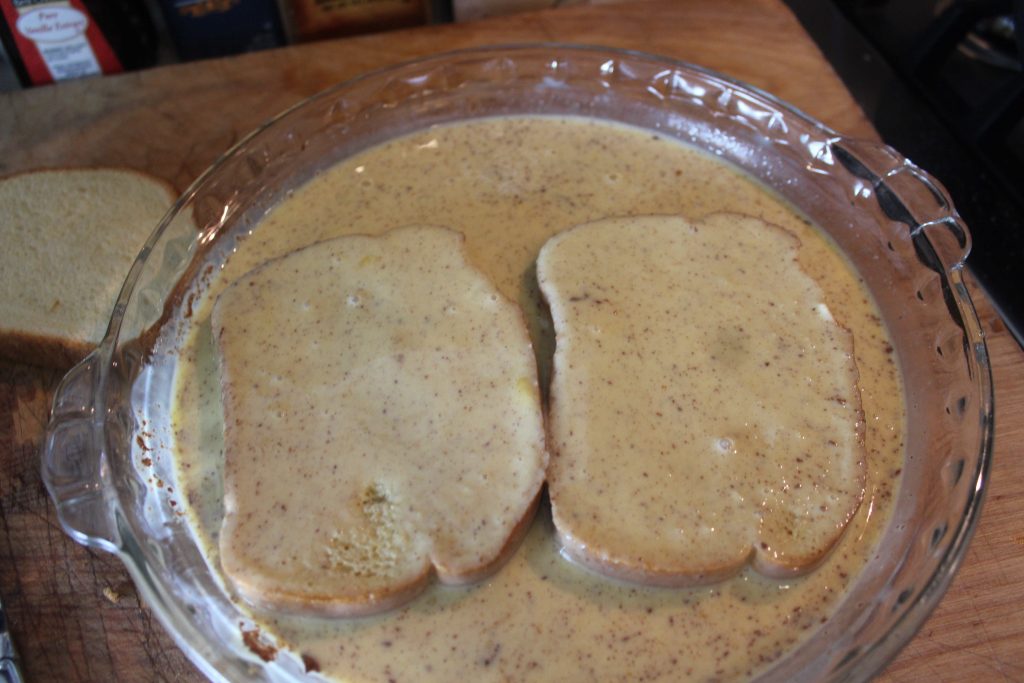 Coat two pieces of your favorite bread . I used brioche but Texas Toast , french bread or just about any bread will do.
Fry in a preheated pan with butter, flipping when brown.
Drizzle with your favorite syrup but I highly recommend Buttermilk Bourbon Syrup , it is really the perfect festive touch.
Eggnog French Toast
Ingredients
1 1/2

cups

of eggnog

4

eggs

1

teaspoon

vanilla

1/2

teaspoon

rum extracts

1/4

teaspoon

nutmeg

1

teaspoon

cinnamon

10

slices

of Bread

I used Brioche

Butter for frying bread
Instructions
In a shallow dish whisk together eggnog and eggs

Add vanilla , rum extracts cinnamon and nutmeg and mix well

Heat skillet on medium heat and start with a couple tablespoons

Coat two pieces of bread with the eggnog mixture on both sides

Place in the preheat pan with butter cook one side until browned and flip and cook the other side.

Cook two pieces at a time until all ten are cooked, you can even use a griddle and cook multiple pieces at a time

Serve with warm syrup, I recommend my Buttermilk Bourbon Syrup
Nutrition