This French Bread Pizza is an easy and budget friendly meal the whole family will love. It is easily customized with your favorite toppings . This is something we ate on a regular basis when I was a kid. In the 1980's take out pizza was a little on the expensive side so my mom made pizza at home on a regular basis. I used to serve this to my kids when they were little and money was tight. . We would have a pizza night and all of them got to put their own toppings on before it went in the oven. Since the price of groceries are going up by the minute I have been getting back to the basics . I have been making a lot of budget friendly meals . This served with a salad is still one of our favorite meals . 
Why French Bread Pizza ?
It is budget friendly . For French bread , cheese , sauce and turkey pepperoni is was less than $10.
Kids and adults love this
This can be customized to your taste
It's so easy even small children can help
You need very little equipment . a Serrated knife and baking sheet .
Let's talk Cheese !
I get most of us are busy and buy already shredded cheese, I did it for years. Let me tell you if you have time shred your own. The cheese that is already shredded is coated with cellulose to prevent it from sticking together . I have noticed some cheeses have an excessive amount of this coating and they just don't melt correctly . If you miss that perfect cheese pull like in the picture below here are a few options of grating your own cheese.
Let get started with these very simple ingredients !
First slice your French Bread length wise and then I slice it slightly to make pieces easy to pull off after it is baked .
Spread desired sauce on the French Bread .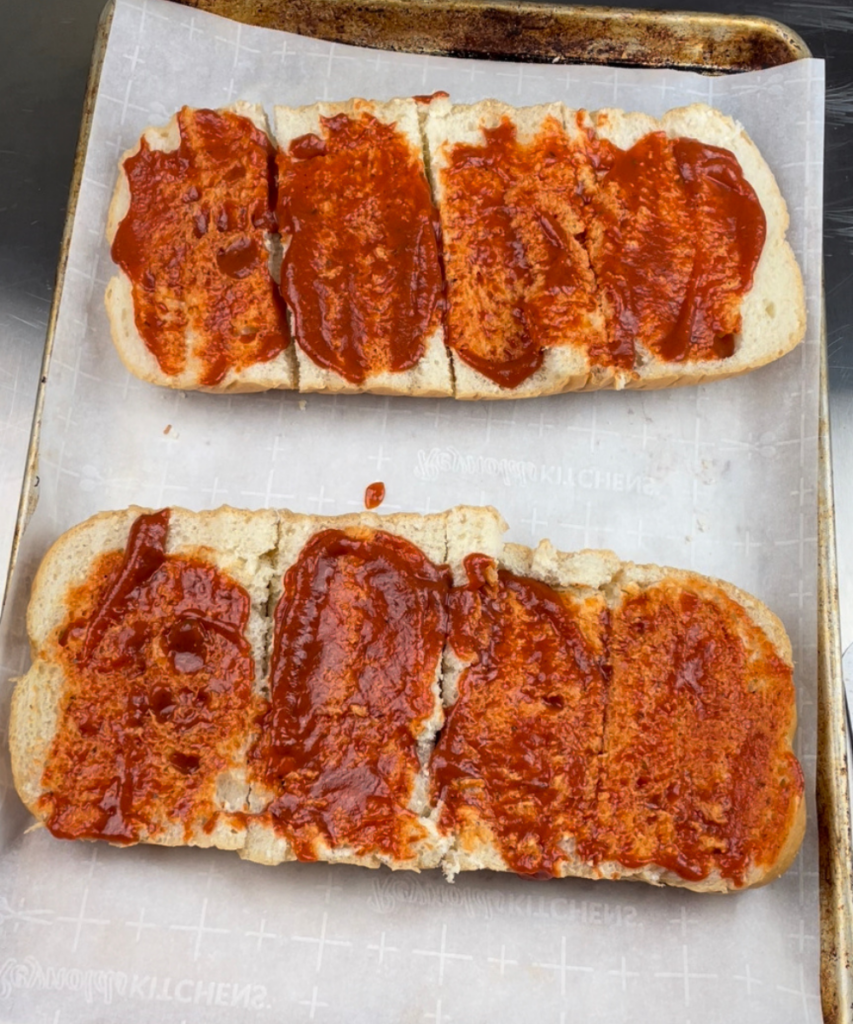 Top with cheese and desired toppings
Bake at 350 degrees for about 15 minutes. or until the cheese is melted .
Check out these budget friendly meals :
French Bread Pizza
Serrated knife
baking sheet
Parchment Paper
1 loaf French Bread
1 jar pizza sauce (see notes)
10-12 oz Shredded Mozzarella cheese (or cheese of your choice)
Toppings of your choice -I used Turkey-roni
Slice French bread Horizontally . I like to make cuts into serving sized but leaving it intact. After it is baked you just pull your pieces off.

Spread sauce over desired amount of sauce over the bread.

Top with cheese and desired toppings

Bake at 350 degrees for about 15 minutes
Serve this with a salad and you a complete meal 
When my kids were little I would slice off there pieces and let them put them own toppings on . They loved this and would always eat everything.