My husband has been on a law carb diet since this past October and bless his soul he made through the holidays without falling off the wagon. I try to help him stay on track by preparing meals similar to this Low Carb Meatballs and Creamy Spinach and he can make several meals out of this. For a while we got into a chicken rut , we all love chicken but I felt like I was about to start clucking , lol. When I started making things with ground meat I needed a binding agent and I couldn't use bread crumbs. Using only eggs wasn't working out well so one day I added some grated parmesan cheese . It worked GREAT!! It not only helped hold things together but it added flavor and texture.
I have found with Russell as long as I make his dishes flavorful he doesn't feel like he is missing the things he used to eat. One of his favorite snacks that we all enjoy is a Low Carb Spicy Cheese Ball. He has it was veggies and the rest of us have it with the evil carb loaded crackers , LOL.  Another one of his favorite dishes is a Low Carb Bacon Cheese Burger soup, it has all the flavors of a cheese burger without the carbs.
Making these are a cinch , start by mixing the ground meat, eggs, cream, grated parmesan cheese, onion powder, garlic powder , salt and pepper
I used a cookie scoop but heaping tablespoons will work to form the meat balls.  While doing this heat up skillet and olive oil.
Brown meatballs giving the skillet a few shake to prevent sticking. Flip meat balls over trying to get all sides brown
Once the meatballs are browned add beef broth .
Add red pepper flakes and salt, simmer for 20-25 minutes
Once meatballs are cooked well remove them from the pan and set aside
The beef broth should be reduced by at least by half
Add cream cheese and cream and stir until it is melted and smooth
Add Mozzarella cheese
Everything should melt nice and smooth
Add spinach and incorporate it with the cream to wilt the spinach
Stir meatballs into the creamy spinach
ENJOY!!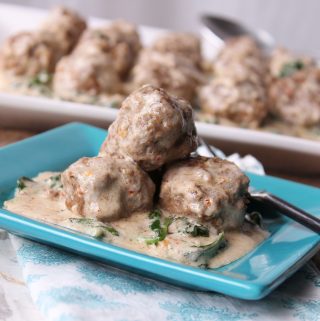 Low Carb Meatballs and Creamy Spinach
Ingredients
Meatballs
2

LBS

ground chuck

1

cup

grated parmesan cheese

2

eggs

1/4

cup

heavy cream

1

teaspoon

salt

1/2

teaspoon

black pepper

3/4

teaspoon

garlic powder

3/4

teaspoon

onion powder

1

tablespoon

olive oil for pan
Creamy Spinach
14

oz

can beef broth

1/2

teaspoon

red pepper flakes

1/4

teaspoon

salt

4

oz

cream cheese

1/2

cup

heavy cream

1/2

cup

shredded mozzarella cheese

6

oz

container fresh baby spianch
Instructions
In a large mixing bowl mix ground meat , cream, eggs, parmesan cheese, salt, pepper, onion powder, and garlic powder

Using a cookie scoop or heaping tablespoons form the meat balls

Heat olive oil up in a large skillet and begin browning meatballs

Slightly shaking the pan to keep the meat balls from sticking .

Once the meatballs are browned on all sides add a can of beef broth

Add salt and red pepper flakes and bring the broth up to a boil then reduce the heat to medium

Let the meatballs cook for about 20-25 minutes undercovered

Remove meatballs from the broth. The broth should be reduced by at least half

Add cream cheese first and allow it to melt a bit

Add cream and allow everything to be smooth and melted--stir with a spatula

Once the mixture is melted add mozzarella cheese and stir well..it will become thick

Add baby spinach stir the cheese mixture in and let it wilt the spinach

Once the spinach is wilted stir in meatballs

ENJOY!!