. 
So ,this Tex Mex Layered Dip has been around as long as I can remember. My mom used to make a large pan of this  and it was very elaborate. She would make her guacamole from scratch of course and make things so much richer . She would had a ton of cream cheese in the bottom two layers and it was so good . She would also put so many toppings on top of the cheese you didn't know cheese was there until you dug in. Well, this is my version and it is a bit simpler . We love Tex Mex dips at our house , you should check out my Easy Fresh Salsa and  Bacon Bean Dip.
This Tex Mex Layered Dip  is great for parties or watching your favorite ball game. Believe me put this on the table and it will be devoured in no time, always a party favorite. I have put this together as easily as possible but you can change things up a bit.
The guacamole layer I use a brand called Wholly Guacamole , you can use another brand or even make your own
The salsa layer I use a chunky pace brand , you can use what ever brand you like or the amount of heat you like. I just recommend draining it well so it doesn't make your dip runny.
The cheese layer I used a Mexican blend but feel free to use your favorite like Cheddar or Pepper Jack
Toppings..I kept it simple with sliced black olives but get creative and use what you like. Diced Jalapenos, sliced green onions, diced tomatoes or chilies .
Start by draining your salsa and set aside to drain while mixing your other layers. Mix together a can a refried beans, 4 oz cream cheese, 3 teaspoons of taco seasoning.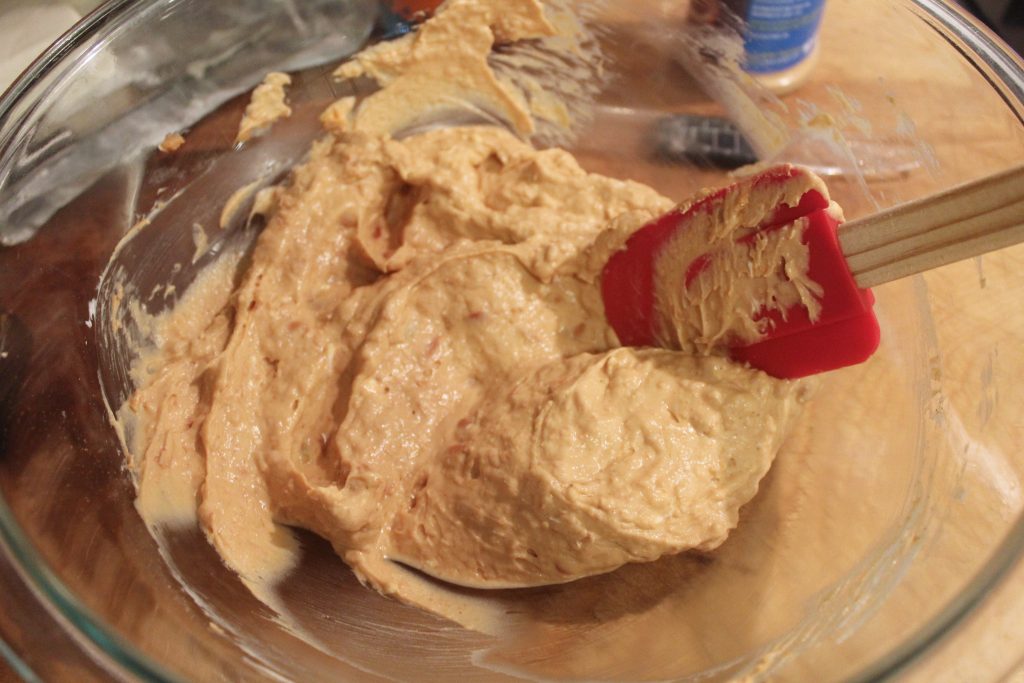 Carefully spread the bean mixture in the bottom of a 8×8 dish.
Mix together the other 4 oz of cream cheese , sour cream and 3 teaspoons of taco seasoning. Carefully spread on top of the bean mixture.
Carefully spread both packages of guacamole on top of the sour cream mixture.
Carefully spread the drained salsa on top of the guacamole.
Top the dish off with the package of Mexican Blend Cheese.
Cover and Chill for a few hours
Top with sliced olives
Serve with Tortilla Chips
Enjoy!
Tex Mex Layered Dip
Ingredients
8

oz

Room Temperature Cream Cheese-divided

6

Teaspoons

Taco Seasoning -divided

16

oz

Refried Beans

8

oz

Sour Cream

2 8

oz

Wholly Guacamole

16

oz

Pace Picante Sauce drained

8

oz

Shredded Mexican Blend Cheese

Sliced Black Olives

Tortilla Chips or Frito Scoops
Instructions
Drain the salsa and let is continue to drain while mixing the other layers

Mix 4 oz of cream cheese, the can of refried beans and 3 teaspoons of taco seasoning, Mix really well

Spread the bean mixture evenly on the bottom of an 8x8 dish

Mix the sour cream, remaining 4 oz of cream cheese and 3 teaspoons of taco seasoning

Carefully spread sour cream mixture on top of the bean mixture

Carefully spread both packages of Guacamole on top of the sour cream layer

Carefully spread the drained salsa on top of the Guacamole layer

Top all of this with the package of cheese

Cover and chill for a few hours

Right before serving top with sliced black olives

Serve with Tortilla Chips or Frito Scoops