Here in southern Louisiana deviled eggs are a staple at any gathering. I will admit I have always been a classic deviled egg kinda girl, just plain and simple.  Recently I have been introduced to adding cream cheese to the yolks….LIFE CHANGING!! It makes the yolks so creamy , smooth and adds a unique flavor.When creating these Jalapeno Cream Cheese Deviled Eggs I had my husband in mind since he loves the jalapeno cream cheese .Also, he follows a pretty strict low carb lifestyle . As an added bonus these are low carb and keto friendly. Even if you don't follow a low carb lifestyle check out another recipe I used it in..Low Carb Spicy Cheese Ball . 
In my humble opinion one of the hardest things to accomplish is how to boil the "perfect" egg. I know there are thousands of blog post out there on different methods and I have probably tried 698,358 of them. I don't know if it is the hot and humid gulf coast weather here or just me. My eggs are always hit or miss. Sometimes they are super easy to peel and sometimes I am not so lucky. So, I am not going to give any advice on boiling eggs. You can totally cheat and buy the eggs that are already boiled at the supermarket, it is up to you . Don't tell my mom buying those already boiled eggs is like using the lord's name in vain in church. She would be saying an extra prayer for me , LOL.
Normally I wouldn't use any equipment on plain deviled eggs but because of the cream cheese I did use a food processor, these Jalapeno Cream Cheese Deviled Eggs   . If you don't have one I recommend using any type of hand  mixer you have . It might be difficult to incorporate the yolks and cream cheese if mixed by hand. I am all about making life easier especially in the kitchen and a food processor is a life saver .
Start off by slicing your hard boiled eggs length wise and placing the yolks in a food processor.
Then add the jalapeno cream cream cheese, mayo, mustard and ranch dressing.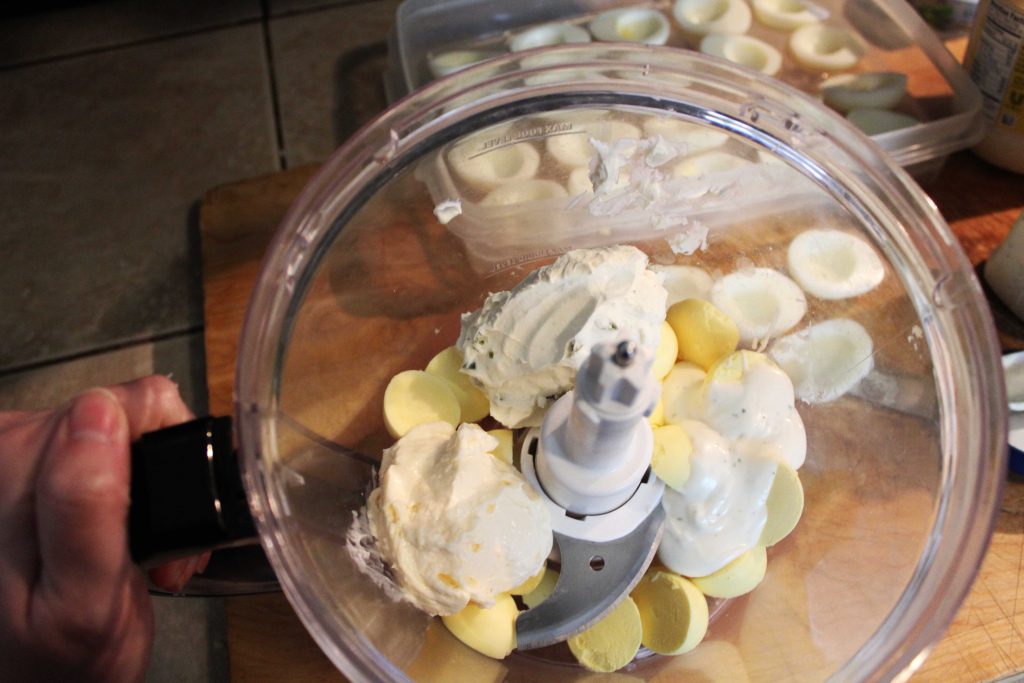 Blend well in the food processor, stopping to scrap down the sides.
Fill the egg whites with the yolk mixtures. This can be done by either spooning the mixture in or using a piping bag . Top with a pinch of cayenne pepper or paprika. Serve immediately or cover and chill.
Enjoy
Jalapeno Cream Cheese Deviled Eggs
Ingredients
12

Hard boiled eggs

4

oz

Jalapeno Cream cheese

1/3

cup

mayo

2

tablespoons

ranch dressing

1

teaspoon

yellow mustard

Optional Pinch of Cayenne pepper or paprika for the tops
Instructions
Slice hard boiled eggs length wise

Place the yolks in a food processor and sit the egg whites aside

Add the mayo, mustard , ranch and jalapeno cream cheese to the yolks.

Blend well, stopping to scrape down the sides

Fill the egg whites with the yolk mixture with a spoon or piping bag

Top with either a pinch of cayenne pepper or paprika

Serve immediately or cover and chill