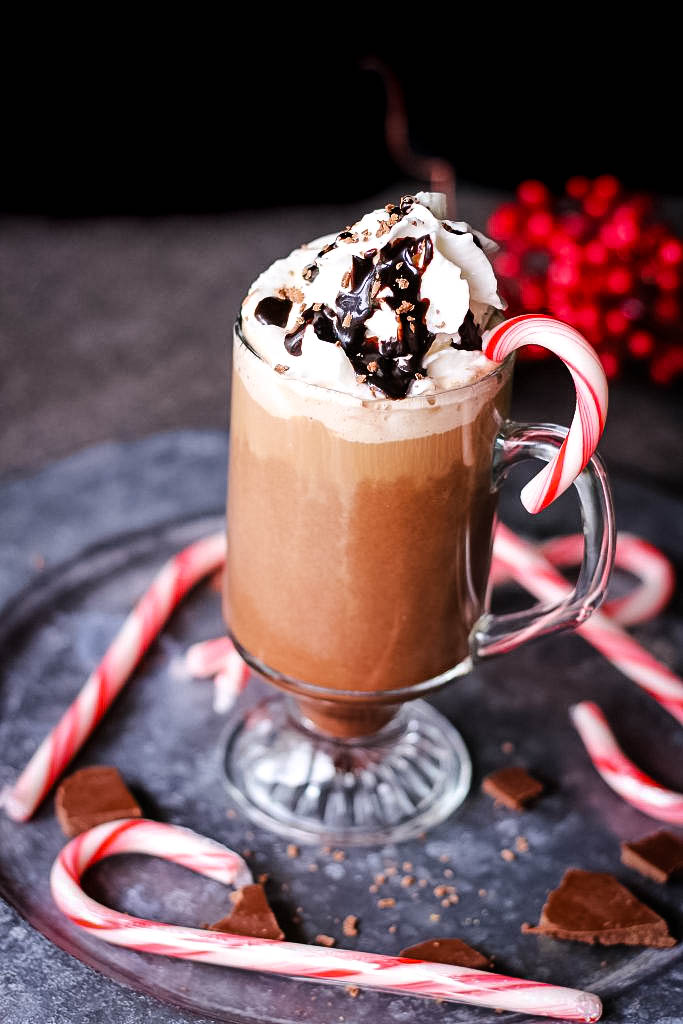 During the holidays all the coffee shops sell the perfect warm concoction that just oozes the taste of Christmas. The first time a Peppermint Mocha every passed my lips it was like the skies opened up and I heard angels sing ..I WAS HOOKED!! These coffee shop beverages are so good but not too friendly to the pocket book.  When I was coming up with this I wanted something that was everyday affordable and easy.
Christmas is the season for sharing , so this put in a pretty container or bag would be perfect for gift giving. If you want to go all out pair it with my Peppermint Mocha Cookies  in a basket, the perfect holiday gift. The beauty of this mix is enjoying a peppermint mocha in your PJ's and never having to leave your house.
This is really easy to throw together and the only tool that will make your life easier is a food processor. Start by unwrapping 30 mints and putting them in the food processor and blend them until they are ground to a fine dust. Empty the ground peppermint into a bowl and set aside.
Put the powdered sugar , instant coffee, creamer , and cocoa into the food processor and blend it well.
Add the ground peppermints back to the food processor and blend it well
Store in an airtight container or package for gifts.
Place 2-3 heaping Tablespoons of mix into a mug and add hot water. Stir well and allow all of the peppermint to melt. If you want to get fancy, top it with whipped cream and chocolate.
Peppermint Mocha Mix
Ingredients
30

Starlight Peppermints-crushed

1

cup

powdered sugar

1

cup

powdered creamer

1/4

cup

instant coffee

3/4

cup

cocoa powder
Instructions
Run the peppermints through a food processor and get them nice and fine

Mix remaining ingredients with the peppermints

Store in an airtight container

When serving put 2-3 heaping Tablespoon in a mug and add hot water, stir well and allow the peppermints to melt

Garnish with whipped cream and chocolate if desired