This classic southern cornbread dressing  is deliciously moist , has the perfect balance of flavor , and packed with fresh veggies.  It is a staple during the holidays and Thanksgiving wouldn't be the same without it . This recipe is exactly the way my Mother taught me to make it, so it is a family recipe for sure. In my opinion heirloom recipes are the best , pure comfort food. Plus they are tried and true .  Here in the south we don't do "stuffing" and we don't put strange things like cranberries or chestnuts in our dressing . I think if I did something strange to our dressing I would be banned from making it. This dish could take center stage for sure , the one thing you do need  with it is Turkey Gravy and Homemade rolls.   Forget the turkey bring me the cornbread dressing !
What you will need to make Southern Cornbread Dressing
Gather the simple ingredients needed for this classic holiday dish. Cook and cool your cornbread ahead of time.
Dice your onions and celery . Melt the butter in a skillet and cook the onions and celery until they are soft and set aside
Crumble the corn bread into a large mixing bowl , add the bad of cornbread mix and seasoning.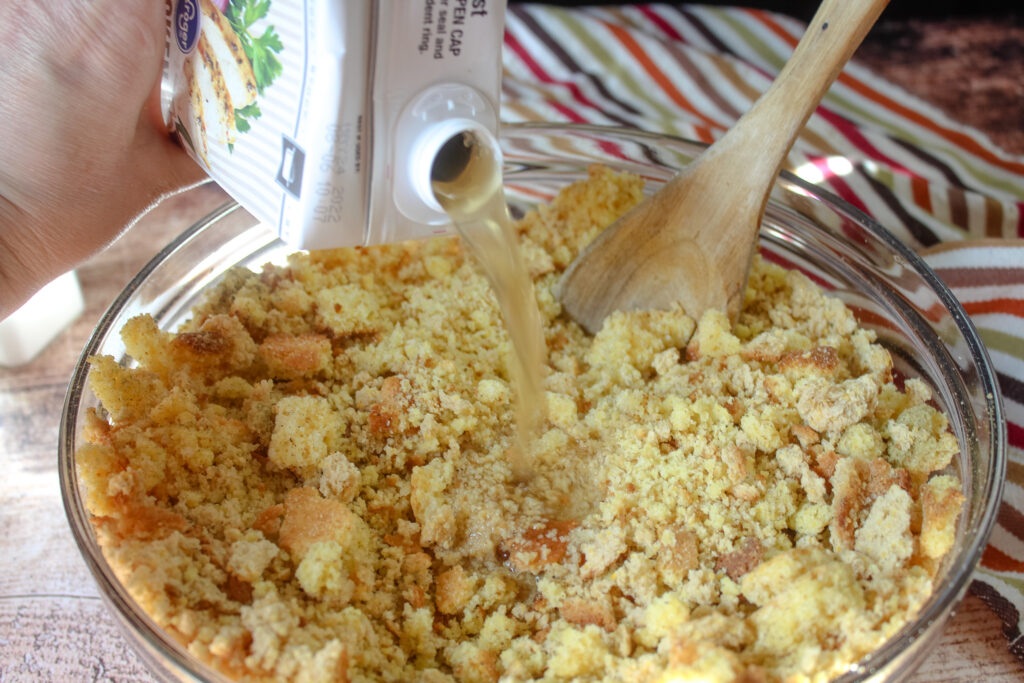 Stir in the chicken broth
Mix in slightly cooled onions and celery
Beat the eggs well and stir it into the cornbread mixture
Add optional shredded chicken if desired
Pour it into a 9×13 pan sprayed with cooking oil. Cover with foil and cook for 45 minutes . Uncover and bake another 20-30 minutes , until golden brown
Serve hot and enjoy!!
If you like this recipe you will love these as well :
** This post contains affiliate links which means I may make a small profit from products at no cost to you . Click HERE for full disclaimer
Southern Cornbread Dressing
This classic cornbread dressing is deliciously moist , has the perfect balance of flavor , and packed with fresh veggies.
Ingredients
2

packages of cornbread cooked and cooled

12

oz

bag Pepperidge Corn bread stuffing

Only this brand

1

stick of butter

2

stalks of celery

1

medium onion

2

eggs

32

oz

chicken broth

1 1/2

teaspoons

poultry seasoning

1

teaspoon

salt

1/2

teaspoon

black pepper

Optional-1 cup of shredded chicken
Instructions
Cook and cool your cornbread

Preheat the oven to 350 degrees

Dice your onions and celery

Melt the butter in a skillet and cook the onions and celery until they are soft and set aside

Crumble the corn bread into a large mixing bowl

Add the bag of cornbread stuffing mix

Add poultry seasoning, salt and pepper and stir together

Stir in the chicken broth

Mix in cooled onions and celery

Beat the eggs well and stir it into the cornbread mixture

Pour it into a 9x13 pan sprayed with cooking oil

Cover with foil and cook for 45 minutes

Uncover and bake another 20-30 minutes , until golden brown
Notes
The cornbread can be made the day before to save time 
Use your favorite cornbread to make this, either homemade or from  a package
The shredded chicken is optional , I like it both ways
Do not use another brand of stuffing mix 
This is Fantastic served with my Turkey Gravy
This will serve a crowd