Surf and Turf Po'Boys are hearty , spicy and dripping with gravy and jalapeno mayo. It's the perfect combination with the tender shrimp and hearty roast beef. This makes special appearances at my house and my family loves it.  If you have never had a Louisiana style Po'Boy this is the perfect place to start. Unlike most Po'Boys this doesn't have fried meat so it's a bit easier . Depending on the part of Louisiana you visit the Po'Boys differ greatly . This is very typical of how you would get one in the Lake Charles area. I did get the inspiration for this from several local restaurants .
Po'boys are said to have originated in New Orleans during the 1920's streetcar strike . Martin Brother's Restaurant and Coffee stand in the French Market jokingly called the men striking "Poor Boys" when they stopped to get their "loaves" ( a hoagie type sandwich made on cut french loaves). Eventually the term was coined and shorten to Po'Boys. In modern day New Orleans when you order a Po'Boy most of them have either fried shrimp, fish or oysters with some type of remoulade. A little different from the Southwest corner where I am from , but believe me I love both . Did you know here in Louisiana there are restaurants that only serve Po'Boys ? Po'Boy shops are basically Louisana's Deli .
    What you will need to make this recipe :
Po'Boy buns or French Bread sliced
Deli Sliced Roast Beef and Provolone
1 lb peeled shrimp
Creole or Cajun seasoning like THIS
Brown Gravy Packet
Garlic and onion Powder
Beef Better than Bouillon
Medium saucepan like THIS
Medium Frying pan like THIS
Baking Pan
Start by making the gravy first. Whisk together two cups of water, gravy packet , Better than bouillon and seasoning
Pour mixture into a medium saucepan and bring up to a boil and then simmer . Whisking occasionally until the gravy and simmer until the gravy is thickened.
While the gravy is simmering heat up a skillet with olive oil on medium heat. Pour the shrimp into the heated skillet and cook them until they turn pink and the tail curls. Heat up the roast beef in the microwave just long enough the take the chill off .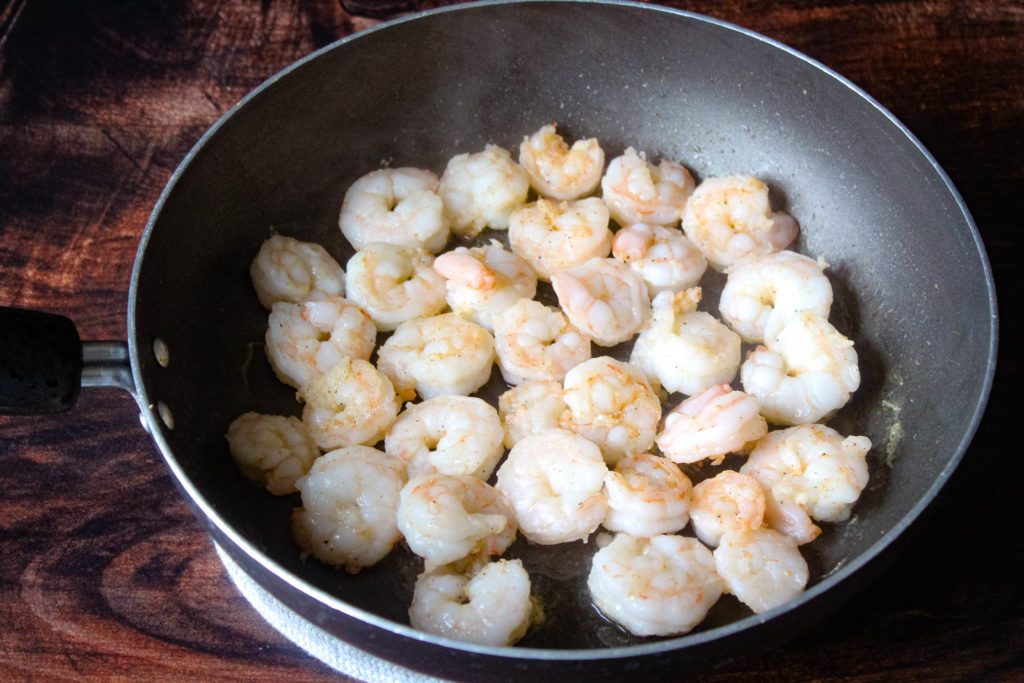 Assembly of the Po'Boy
Split your buns if they aren't split and cover one side with cheese then place it on a baking sheet
Place them under the broiler in your oven just long enough for the cheese to melt
Once the cheese is melted layer on top of the cheese Roast beef , a little Gravy, 4-5 Shrimp. then desired amount of gravy.
On the plain side of the bun spread desired amount of jalapeno mayo
Place the desired amount of lettuce and fold it together
Grab some napkins because it's messy !
If you enjoy this recipe you may like these also:
Surf and Turf Po'Boys
Ingredients
4-5

Po'Boy Buns or Cut French Bread

Sliced Provolone Cheese*

or cheese of choice

1

LB

Deli Sliced Roast Beef

1

LB

Medium peeled shrimp

1

Tablespoon

Olive oil

1

Teaspoon

of Creole or Cajun seasoning

Jalapeno Mayo -*See Notes for recipe

Shredded Lettuce
Gravy
1

Brown gravy packet

2

cups

of water

2

teaspoons

creole or cajun seasoning

1/2

teaspoon

garlic powder

1/2

teaspoon

onion powder

2

teaspoons

Beef Better than Bouillon-optional
Instructions
Gravy
Whisk together two cups of water, gravy packet , Better than bouillon and seasoning

Pour the mixture into a medium saucepan and bring up to a boil and then simmer whisking occasionally

Simmer until the gravy has thickened
Shrimp and Roast Beef
While the gravy is simmering heat up a skillet with olive oil on medium heat.

Pour shrimp into the heated skillet and cook them

Sprinkle the teaspoon of creole or cajun seasoning on them while they are cooking.

Shrimp cook quickly , as soon as the tail begins to curl and they turn pink remove them from heat and set them aside.

Heat up roast beef in the microwave to just to take the chill off
Assembly of the Po'Boy
Split your buns if they aren't split and cover one side with cheese then place it on a baking sheet

Place them under the broiler in your oven just long enough for the cheese to melt

Once the cheese is melted layer on top of the cheese Roast beef , a little Gravy, 4-5 Shrimp. then desired amount of gravy.

On the plain side of the bun spread desired amount of jalapeno mayo

PLace the desired amount of lettuce and fold it together
Notes
The Jalapeno Mayo is a bit spicy so if you are sensitive to spice just use regular mayo
Click HERE for Jalapeno May recipe