When this pink yumminess passed my lips the skys opened up and I heard angels sing !! This is honestly the best strawberry frosting I have ever made, and I have made a lot . I adore anything strawberry but making strawberry frosting has always been a struggle for me. Adding fresh strawberries tend to make it a bit runny and thin. I have tried adding strawberry jello into buttercream and I found it gritty. When I discovered that making a fine powder  from freezed dried strawberries was a thing , it intrigued me and I had to try it.  BAM..LIFE CHANGED!!
Freeze dried fruit and dried fruit are not the same thing so make sure you read the package. Where do you find freeze dried strawberries? Just about any large grocery store chain has them. I have bought them at my local kroger and wal-mart, they can also be ordered off amazon. Just a little tip when looking for an item you are not familar with at a store. If your store has an app make sure you download it , most of the time if you look on the app it will tell you what aisle your item is on. I use this feature along with a screen shot when I send my 17 year old son to the store.
I basically took a basic buttercream frosting and added the powdered freeze dried strawberries to it, worked like a charm. This powder really packs a punch of flavor .You do need a few appliances for this recipe but so worth. Start off by blending a package of freeze dried in food processor or blender into a fine powder. Beat the butter until fluffy and the powder and blend well. Add the strawberry extracts for an extra punch of flavor.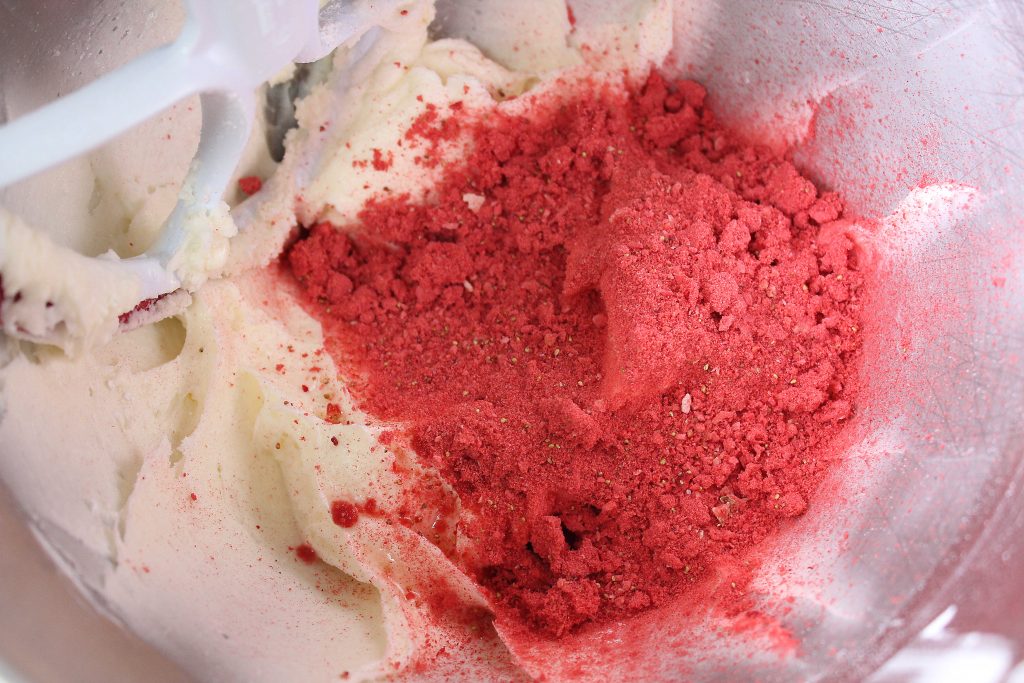 Slowly add powdered sugar and alternate milk until the desired consistency. Beat until nice and fluffy.
Now this is ready to be spread or pipped on a cake or cupcake. I actually put this frosting on a Lemon Cupcake and it was a fabulous contrast.
ENJOY!!
Ingredients
1 1/2 sticks butter room temp
1 oz bag freeze dried strawberries
1 teaspoon strawberry extract
3 cups powdered sugar
2-3 tablespoons milk
Instructions
Place freeze dried strawberries in a food processor or blender and blend it until it a fine powder , set aside
Place room temp butter in a stand up mixer and beat until fluffy
Add the strawberry powder and beat untill incorporated
Beat in strawberry extract
Add a powdered sugar a half a cup at a time and alternate adding milk until desired consistency
Beat until smooth and fluffy
This is ready to be piped or spread on cakes or cupcakes
https://bakedbroiledandbasted.com/strawberry-frosting/