When I see peeps they just make me happy and I know Easter is near.  I will be honest here, I am not a fan of eatting them but they are just so darn cute I love using them.  Making these Easter Cupcakes was so fun, if you like peeps then your decorations are edible. When I made these cupcakes I used the combination of my Lemon Cupcake and my Strawberry Frosting. The combination of the two flavors is very spring like and yummy. I decided to fill these with a marshmallow filling , this is optional but so much fun when you bite into these cupcakes.
So once you have baked your cupcakes , made the frosting and filling it is time to get started. I know it's a lot of mixing but the end result is fun. This is the perfect recipe to share with your kids. I used a large icing tip to cut out the center of the cupcake . This worked great but you can also use a small pairing knife.
Fill the cupcakes with the marshmallow filling. This is sticky so be careful and there might be a little bit leftover.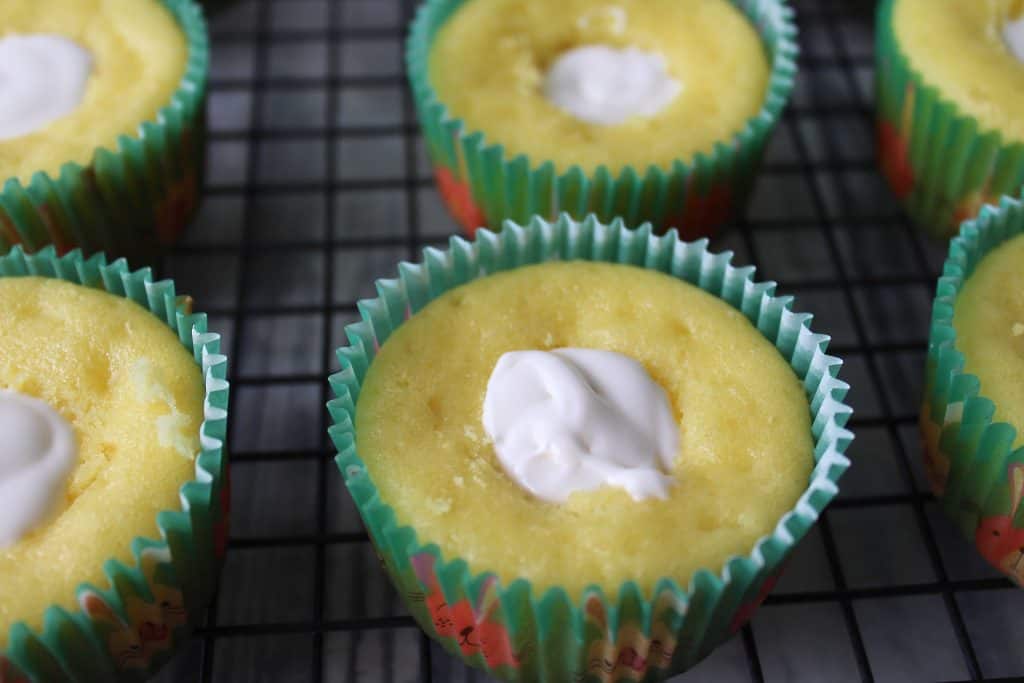 Top the cupcake with a little mound of frosting for the bunny to sit on .I used a very large open star tip but feel free to use your favorite.
Break apart the bunny peeps and place a toothpick in the bottom of a peep.
Place the peep on top of the mound of frosting.
Scatter a few jelly beans around the bottom of the peep.
Now watch with joy when your family and friends get the marshmallow surprise in the center.
Easter Cupcakes
These Easter Cupcakes with cute bunny Peeps are a delicate lemon cupcakes with Strawberry frosting. They also have a surprise yummy marshmallow filling.
Ingredients
Lemon Cupcake
Lemon cake mix

1

cup

water

3/4

cup

oil

3/4

cup

sour cream

1

teaspoon

lemon zest

2

Tablespoon

lemon juice

4

Egg whites
Strawberry Fosting
1 1/2

sticks room temp butter

1

oz

bag freeze dried strawberries

1

teaspoon

strawberry extract

3

cups

powdered sugar

2-3

tablespoons

milk
Marshmallow filling-optional
7

oz

jar marshmallow cream

4

Tablespoons

butter

1

teaspoon

vanilla extract

1 1/2

cups

powdered sugar
Easter Decorations
Bunny Peeps

Easter cupcake liners

Jelly Beans
Instructions
Lemon Cupcake
Preheat oven to 350 and line cupcake tins with easter cupcake liners

In a large mixing bowl mix the lemon cake mix, water, oil, sour cream , lemon zest and lemon juice. Beat until smooth

In a medium bowl beat 4 egg whites with a wire whisk attachment until stiff peaks form

Gently fold egg whites into the cake mix until it is all incorporated

Fill cupcake liners

Bake for 13-15 minutes

Let cool on a wire rack completly
Strawberry Frosting
Place freeze dried strawberries in a food processor or blender and blend it until it a fine powder , set aside

Place room temp butter in a stand up mixer and beat until fluffy

Add the strawberry powder and beat untill incorporated

Beat in strawberry extract

Add a powdered sugar a half a cup at a time and alternate adding milk until desired consistency

Beat until smooth and fluffy
marshmallow filling
This step could be skipped but it is a little extra goodness

Beat all the ingredients of the marshmallow filling together

Fill in a piping bag fitted with a big tip or even just the end snipped off
assembling cupcakes
I used the wide end of a piping tip to cut out the center of the cupcakes for the filling but you can you a small pairing knife also

Once all the cupcakes have the centers cut out pipe the filling in , it will be thick

Pipe the strawberry frosting ontop of the cupcake giving a pretty good mound for your bunny peep

Break apart the bunny peeps and place a tooth pick in the bottom and place it on the mound of strawberry frosting

place a few jelly beans around the bottom of the peep