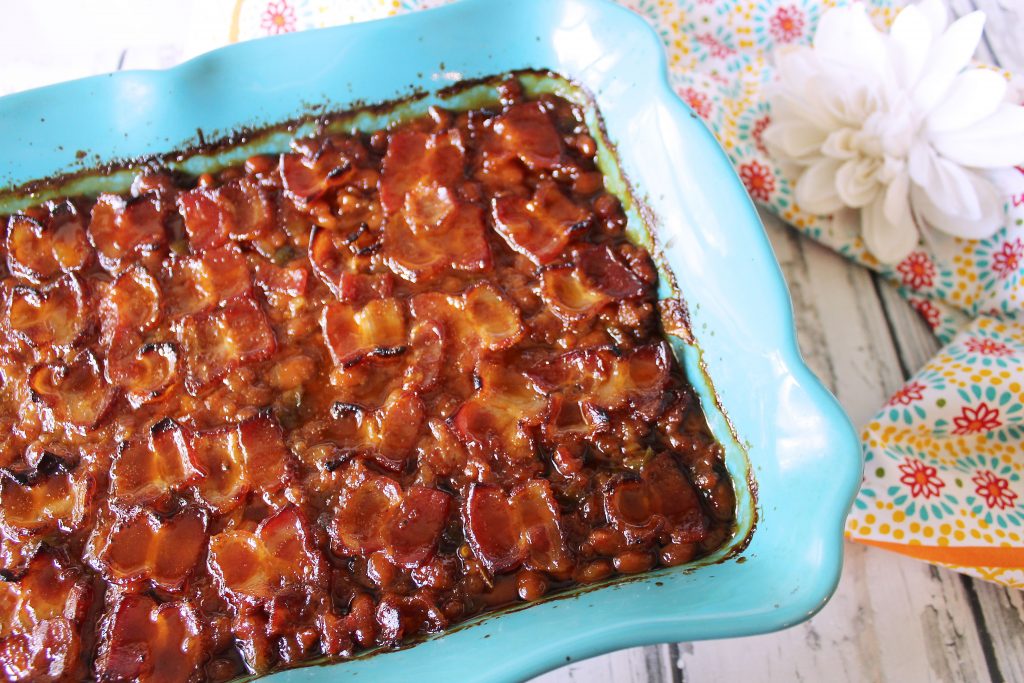 Growing up my father was in retail and he usually worked everyday of the week but Sunday.  He loved to barbecue , so every Sunday afternoon that is what he would do. When there was barbecue there was always yummy sides, baked beans were always on the list . In my mind it is a necessary side dish so I took my mom's basic baked beans and adjusted it . These Angry Pig Baked beans is a dish I came up with my husband in mind. He loves meat added to his baked beans and wants everything spicy. Since this was his cheat meal , I made it happen and boy they were GOOD.
These Angry Pig Baked beans are really the perfect side dish if you are looking for a something with a punch of flavor. They are sweet , savory and has a bit a heat. Start off by browning the spicy sausage with the onions, bell pepper and jalapeno. Make you break up the sausage as fine as you can.
In a bowl mis the baked beans, brown sugar, ketchup, bbq sauce, mustard and sriracha.
Add the meat mixture and mix well.
Add to a baking dish and top with the 1×1 cut jalapeno bacon. Bake uncovered in a preheated 350 degree oven for one hour to one and a half hours. When the bacon is good and brown it is ready.
ENJOY!!
If you are looking for a perfect side dish for your next BBQ check these out:
The Angry Pig Baked Beans
Ingredients
16

oz

spicy breakfast sausage

55

oz

Can Original Bush's Baked Beans

1

cup

diced onions

1/2

cup

diced bell pepper

1

diced jalapeno-seeded

1/2

cup

ketchup

1/2

cup

BBQ sauce

1/2

cup

brown sugar

2

Tablespoons

Mustard

1/2

teaspoon

sriracha

Diced Jalapeno Bacon-Cut in about 1x1 inch pieces
Instructions
Brown breakfast sausage with diced onions, bell pepper and fresh jalapeno

In a large bowl mix canned beans, ketchup, BBQ Sauce, mustard, brown sugar and sriracha( do not drain the beans , use all the yummy juices)

Add sausage mixture and mix together

Pour mixture into a baking dish

Cover the top with diced jalapeno bacon

Bake uncovered at 350 degrees for an hour to an hour and half...or until bacon is crisp