What is the holidays without pumpkin pie? At my house no ordinary pumpkin pie will do , it has the be Pumpkin Pie Supreme. One bite of this pie and you will never look at a plain sad pumpkin pie again without thinking of this lovely pie. You will be ruined and only want this as your holiday pie. This pie has so many layers of yumminess! Next the flakey crust there is a gingersnap and pecan layer , the perfect base for the pie. Then is your typical creamy pumpkin filling topped with a yummy pecan streusel. The perfect Pumpkin Pie supreme!! If you love pumpkin but don't want a pie give a few of my pumpkin cookies a try. They Pumpkin Eggnog Cookies and Chocolate Dipped Pumpkin Cookies . 
Honestly, on a plain pie I would put a dollop of whipped cream but this pie is special enough to be served alone. There are a few extra steps in making this pie but it is well worth it. This can even be made the day before and it is just fine.
Preheat oven to 350 degrees and place the pie crust into a pie plate and crimp the edges. Run Gingersnaps in a food processor until you get a cup and place in a mixing bowl. Then run pecans in a food processor until you get a cup and add to the gingersnaps. Add powdered sugar , then add melted butter and mix until it is incorporated. Press the gingersnap mixture into the pie crust and going up the edges. Bake for 10 minutes and allow to cool for about 15 minutes while mixing the next layer
Mix the pure pumpkin , sweetened condensed milk and slightly beaten eggs.  Add pumpkin spice, sour cream and mix well. Pour into the prepared pie crust and bake in preheated oven for 30 minutes.
While the pie is cooking mix together the coarsely chopped pecans, flour , and brown sugar. Coat the mixture with the melted butter. Once the Pie has baked 30 minute remove it from the oven and top the pie with the streusel topping.
Baked another 20 minutes.
Allow to cool completely before slicing and adore all those yummy layers.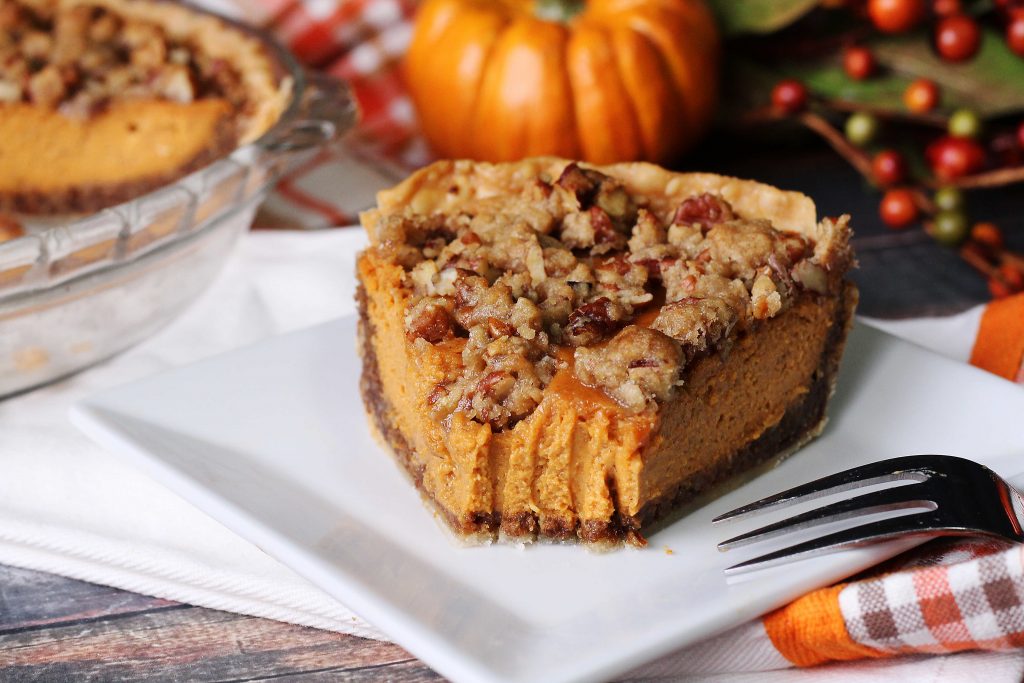 Enjoy!!
Pumpkin Pie Supreme
This Pumpkin Pie Supreme is a perfect addition to your holiday table. It is full of yummy pumpkin spiced layers and is a beautiful and delicious pie.
Ingredients
Gingersnap layer
1

cup

finely crushed gingersnaps

1

cup

finely crushed pecans

1/2

cup

powdered sugar

3

Tablespoons

melted butter
Pumpkin pie filling
1 15

oz

pure pumpkin

1 14

oz

Sweetened Condensed milk

2

eggs slightly beaten

1/4

cup

sour cream

2

teaspoons

pumpkin pie seasoning
Pecan Streusel
3/4

cup

coarsely chopped pecans

1/4

cup

all purpose flour

1/4

cup

light brown sugar

3

Tablespoons

melted butter
Instructions
Preheat oven to 350 degrees

Place pie crust into a pie plate and crimp the edges
Gingersnap layer
Run Gingersnaps in a food processor until you get a cup and place in a mixing bowl

Run pecans in a food processor until you get a cup and add to the gingersnaps

Add powdered sugar and mix it all together

Mix in melted butter until it is incorporated

Press the gingersnap mixture into the pie crust and going up the edges

Bake for 10 minutes and allow to cool for about 15 minutes while mixing the next layer
Pumpkin Pie Layer
Mix together the pure pumpkin , sweetened condensed milk and slightly beaten eggs

Once mixed well add pumpkin spice and sour cream, mix well

Pour into the prepared pie crust

Bake in preheated oven for 30 minutes
Streusel Topping
While the pie is cooking mix together the coarsely chopped pecans, flour , and brown sugar

Coat the mixture with the melted butter

Once the Pie has baked 30 minute remove it from the oven and top the pie with the streusel topping.

Bake another 20 minutes.

Allow to cool completely before slicing
Nutrition