I know it's been a while but all the craziness from the holidays plus my kids activities I have not been in the kitchen much. These little sausage balls are good anytime of year but this is something I have always made on busy mornings so I had to share them with you. I usually mix them up the night the before and place them in the fridge in a covered dish. When all the chaos is happening I pop these in the oven and I am super Mom. My family typically have these on holidays such as Christmas or Easter so they are for special occasions in their mind. I will never reveal how simple these are, it is my secret.
This recipe has morphed over the years from the basic recipe found on most boxes to what it is today. I have added a little bit of all my  favorite flavors and now I have a perfect sausage ball. My youngest son is super picky and hardly eats anything , this is one of his favorite things. These are seriously good straight out of the oven or room temperature. I usually double the recipe and everytime my boys walk by the kitchen they snatch one . I have even brought these to potlucks and eat them as a appetizer.
These are easy to make with really basic ingredients.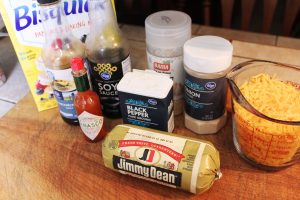 In a bowl place all the ingredients except the milk and mix well.  Don't be scared to use your hands
Add milk and mix it all well
Using a cookie scoop or spoon scoop out desired amount and roll into balls
Place on a prepared cookie sheet sprayed with cooking spray. I used foil for easy clean up
.
Bake for 15-17 minutes
ENJOY!!
Sausage Balls
Ingredients
1

lb

Breakfast sausage

Jimmy Dean

2

cups

Baking mix

Bisquick

2

cups

shredded cheddar cheese

1

Teaspoon

garlic powder

1

Teaspoon

onion powder

1

Teaspoon

Hot Sauce

Tabasco

1

Teaspoon

Black pepper

1

Teaspoon

soy sauce

1

Teaspoon

Worcestershire

1/4

cup

milk
Instructions
Preheat oven to 350 degrees

Remove breakfast sausage from the package and place in a bowl

Add cheese, baking mix, garlic powder, onion powder, pepper, soy sauce, and Worcestershire sauce .

Start Mixing by hand getting all the ingredients incorporated into the sausage

Add the milk and finish mixing

Using a cookie scoop or tablespoon scoop out portions and then roll them into balls

Place on a cookie sheet sprayed with cooking spray

Bake for 17 minutes

Let cool slightly and serve